Disaster Recovery Data and Grant Resources
Disaster Recovery Dashboards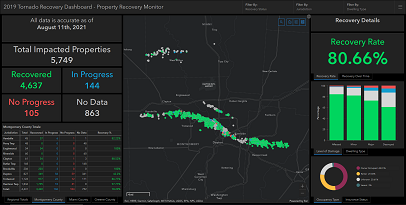 These dashboards monitor the status of individual & property recovery from the Memorial Day tornado outbreak of 2019. Data was acquired from the case management system as well as individual jurisdictions.
Access the 2019 Tornado Property Recovery Dashboard - Property Recovery Monitor.
Access the 2019 Tornado Individual Recovery Monitoring Dashboard - Individual Recovery.
---
Tornado Damage Maps
---
Miami Valley Disaster Recovery Resources
Disaster Recovery Resource Guide for Businesses
---
FEMA, OEMA and Hazard Mitigation Resources
FEMA and Ohio EMA Mitigation Resources:
Community Disaster Loan Program Information
Community Disaster Loan Program Survey
IMAC - Ohio IntraState Mutual Aid Compact
Contacts:
Laura Adcock, Disaster Recovery Branch Chief
Ohio Emergency Management Agency 614.799.3667 ladcock@dps.ohio.gov .
Steve Ferryman, Mitigation Branch Chief
Ohio Emergency Management Agency 614-799-3539 saferryman@dps.ohio.gov
Reach out for assistance specific to your jurisdiction's FEMA applications and for assistance with State of Ohio mitigation funding.
---
EDA Resources and Funding Opportunities
EDA American Rescue Plan Funding
Under the American Rescue Plan, EDA was allocated $3 billion in supplemental funding to assist communities nationwide in their efforts to build back better by accelerating the economic recovery from the coronavirus pandemic and building local economies that will be resilient to future economic shocks.  American Rescue Plan funding enables EDA to provide larger, more transformational investments across the nation while utilizing its greatest strengths, including flexible funding to support community-led economic development. 
Ellen Heinz, M.Ed., OhioCED
Professional Development, At-Large Director
Economic Development Representative
Economic Development Administration, Chicago Regional Office
U.S. Department of Commerce
230 S. Dearborn St., Ste. 3280
Chicago, IL  60604
(419) 544-3614
EHeinz@eda.gov
---
Disaster Recovery Network Resources
Miami Valley Disaster Recovery Network Structure 
Miami Valley Long Term Disaster Recovery Summary Narrative 
Long Term Community Recovery Planning Guide and Toolkit
List of Disaster Recovery Acronyms
List of Disaster Funding Resources
Top 10 Disaster Recovery Procurement Mistakes
Role of the Local Disaster Recovery Manager
REPAIR & REBUILD TASK FORCE MEETING INFORMATION