Walkability (Audits)
MVRPC provides assistance to local communities to audit their built environment.  A technical review, with criteria established by Federal Highway Administration (FHWA), the audit can assist a community in deciding where to change or improve their streets, intersections, and sidewalks to be more walk-friendly, safer, and accessible.  The walking audit is also a great educational tool for school groups, planning commission members, and community advocates to better understand multi-modal transportation issues. 
Walkable Communities Program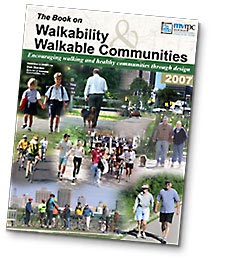 The Book on Walkability and Walkable Communities
Every trip we take includes at least some walking. Shouldn't it be a joy? If your community is looking to get more people walking in neighborhoods, business districts or around the schools, this resource is for you. MVRPC, in collaboration with Dan Burden, Director of Walkable Communities, Inc., has produced a complete one-stop guide for assessment, evaluation, planning and design of walkable neighborhoods and cities. This 91 page handbook will guide planning and engineering staff, as well as citizens, though all the steps of a walkable communities project. Steps including:
Walkability assessments
Holding a Walkable Community Workshop 
A comprehensive Toolbox of design elements that enhance walkability 
Tips for including walkability objectives in all levels of planning – from comprehensive plans and site design codes to Transportation and Neighborhood master plans and Street Design guidelines. 
Full of examples, assessment tools and photos of working examples of walkable designs, The Book on Walkability will prove both inspirational and useful to your community's walkable development vision.
Contact Matt Lindsay for information on obtaining a hard copy or CD copy of this book.