RTPO Pilot Program
In 2013, ODOT initiated the Regional Transportation Planning Organization (RTPO) pilot program to assist multi-county rural regional planning organizations in developing transportation plans and overall transportation planning expertise amongst RTPO staff.  Since then six agencies have officially been designated as RTPOs by the Governor. 
MVRPC is excited to be a new participant in the RTPO pilot program working with its rural members in Darke, Preble, and Shelby Counties to advance transportation planning and partnerships that will benefit both ODOT and the member governments of the RTPO. 
The first step towards achieving official RTPO designation is the development of a Regional Transportation Plan.  For details on the process, see the scope document for SFY 2022-2023. The development of the Regional Transportation Plan will proceed along the timeline dipicted below.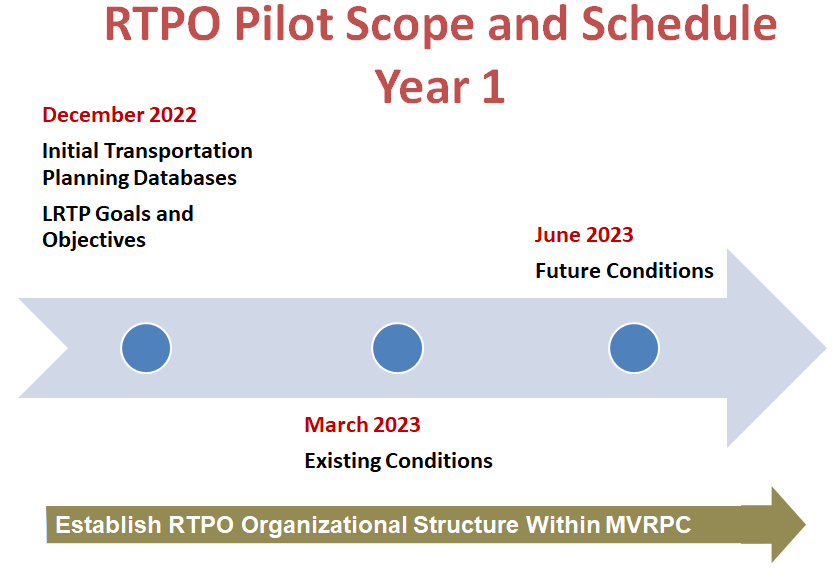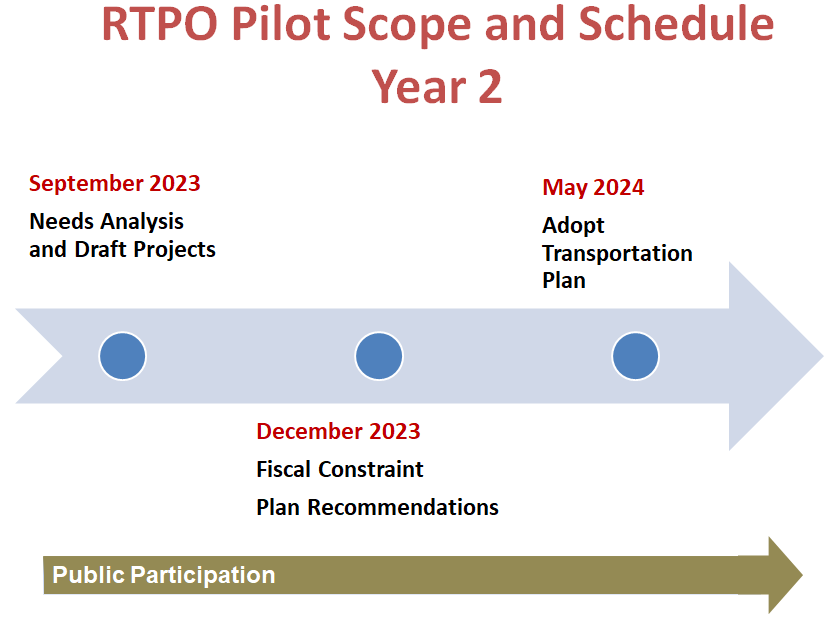 Regional Transportation Planning Organization Meetings & Workshops

Date

Location

Presentations

RTPO Steering Committee
Tuesday, August 16, 2022
Dayton Realtors - 1515 S. Main St., Dayton

RTPO Meeting Agenda August 2022
RTPO Meeting Mailout August 2022

RTPO Workshop
Wednesday, October 19, 2022
Zoom
October RTPO Steering Committee Presentation
RTPO Steering Committee
Wednesday, November 16, 2022
Darke Rural Electric Facility  - 1120 Fort Jefferson Ave., Greenville
RTPO Meeting Agenda and Presentation November 2022
RTPO Workshop
Wednesday, January 18, 2023 - 2:00 p.m.
Zoom
RTPO Workshop Agenda January 2023
RTPO Steering Committee
Wednesday, February 15, 2023 - 2:00 p.m.
Shelby County Agriculture Center - 820 Fair Road, Sidney
 
 
 
 
RTPO Steering Committee
Wednesday, May 17, 2023 - 2:00 p.m.
Preble County Fairgrounds/Expansion Building 722 South Franklin Street, Eaton
RTPO Meeting Agenda May 2023
 
 
 
 
RTPO Steering Committee
Wednesday, August 16, 2023 - 2:00 p.m.
Dayton Metro Library - Main | The Bassani Theatre off Third 215 E 3rd St., Dayton, OH 45402
RTPO Meeting Agenda August 2023