Sustainability Resources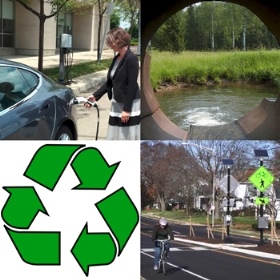 Welcome to MVRPC's Sustainability Resource page.  It has been designed to provide you with a range of environmental and life quality sustainability topics to assist you in keeping up to date on best practices, introducing key contacts/subject matter experts, presenting additional learning opportunities and much more.  We also want you to share any information that comes your way.  In each topic, you will have an opportunity to pass along your news.
Sustainability Roundtable
MVRPC hosts periodic Sustainability Roundtables. Here are the meeting materials, links and presentations, where available.
Community Resilience Planning 2 - June 27, 2019
This session will continue the Resilience theme with a look at Hazard Analysis and Risk Assessment. Speakers will include Rosanne Anders, Director of Greene County Emergency Management Agency, Jeff Jordan, Director of the Montgomery County Office of Emergency Management, representatives of WSP and local government.
Registration is required.
---
Community Resilience Planning - February 27, 2019
Community Resilience Planning
Resiliance Planning for Local Governments
Case1: New Sandy Hook School
Case 2: Princeton's microgrid Sandy
Case 3: Toronto Checklist
Case 4: Paradise Fire
Case 5: Cleveland
Case 6: Healhcare Resiliency
---
Storm Water: Districts and Data - December 5, 2018
Strand Associates
Woolpert presentation and Impervious Surface Project
Clermont County presentation and Handout
---
Storm Water Management: Buildings and Grounds -  September 26, 2018
Rain Gardens in Franklin County, Ohio
Stormwater BMPs, City of Dayton, Ohio
Roundtable Introduction
---
Storm Water Management - July 24, 2018
ODNR - Street Trees and Green Infrastructure
OKI - Trees and Stormwater
CMT - Pervious Pavement Use for Effective Design
---
Textile Recycling Event - April 3, 2018
Simple Recycling presentation.
Rumpke presentation.
Montgomery County Environmental Services presentation.
City of Cincinnati presentation.
---
Is your Community Solar-Friendly? - Nov. 9, 2017
DPandL presentation.
OEC presentation.
Energy Optimizers presentation.
---
Using trees to improve vacant lots - Mar. 23, 2017
Facilitation session, no presentations.
---
Emerald Ash Borer - Feb. 25, 2016
No presentations available.
---
Best Practices in Snow and Ice Control - Oct. 22, 2015
No presentations available.
Webinars & Conferences
There are no scheduled webinars.​
---
Electric Vehicles
Recycling
Recycling prevents usable materials from needlessly going into landfills, creates raw materials for new products, and saves communities landfill costs!
Contact information for every Solid Waste Districts in Ohio. Find out how you and your community can recycle more!
Ohio EPA's Materials Marketplace is a free online platform allowing businesses and organizations to connect and find reuse and recycling solutions for waste and by-product materials.
The National League of Cities has published a new report, "Rethinking Recycling: How Cities Can Adapt to Evolving Markets." This 36-page report describes numerous strategies cities across the US are using to address collapsing markets in recyclable materials.
Trash and Recycling information for residents of the City of Dayton.
Have something to include? Send it to Matt Lindsay!
Renewable Energy
Renewable energy from sources like wind and solar are low carbon alternatives to coal, oil and gas and have been the fastest growing sources of energy in recent decades.
In March of 2019 MVRPC partnered with the Ohio Environmental Council and the Hanley Sustainability Institute to conduct a "Growing Local Solar" workshop. The workshop agenda, presentations and handouts and photos from the day are available from the HSI web site.
Ohio cities and local governments can wield multiple tools to encourage renewable energy in their communities.
Ohio residents and businesses can make an individual choice to buy energy from renewable sources. Find out more at Energy Choice Ohio.
Energy efficiency – the cheapest energy is the energy you don't use.
Development of large scale wind and solar farms is regulated in Ohio by the Ohio Power Siting Board.  Check out their renewable energy resources, approved sites, and pending facilities at their web site.
Have something to include? Send it to Matt Lindsay!
Urban Forestry
Storm Water
Food
Access to healthy food and locally grown foods are two central issues for regional sustainability. "How we eat determines, to a considerable extent, how the world is used."– Wendell Berry
Dayton Food Desert analysis.
Hall Hunger Initiative seeks to address hunger and its causes in West Dayton.
Check out the Local Foods Directory from B-W Greenway Community Land Trust.
The Food System Primer from the Johns Hopkins University Center for a Livable Future explains many of the current issues in food systems planning and development.
Have something to include? Send it to Matt Lindsay!
Public Health
Equity
The pages will be updated on a regular basis to keep it fresh and beneficial; we hope that you find this a worthwhile tool and are open to your suggestions to improve its value.  Please contact Matt Lindsay at mlindsay@mvrpc.org to provide feedback.