Sustainability Resources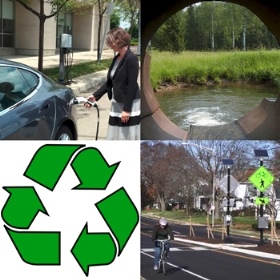 Welcome to MVRPC's Sustainability Resource page.  It has been designed to provide you with a range of environmental and life quality sustainability topics to assist you in keeping up to date on best practices, introducing key contacts/subject matter experts, presenting additional learning opportunities and much more.  We also want you to share any information that comes your way.  In each topic, you will have an opportunity to pass along your news.
Sustainability Roundtable
Miami Valley Climate Change Seminar
Electric Vehicles
Recycling
Renewable Energy
Urban Forestry
Storm Water
Food
Public Health
Equity
The pages will be updated on a regular basis to keep it fresh and beneficial; we hope that you find this a worthwhile tool and are open to your suggestions to improve its value.  Please contact Matt Lindsay at mlindsay@mvrpc.org to provide feedback.
If you are using an e-reader and encounter problems with this page, please contact Matt Lindsay, Manager, Environmental Planning at (937) 531-6548 for assistance.