Sustainability Resources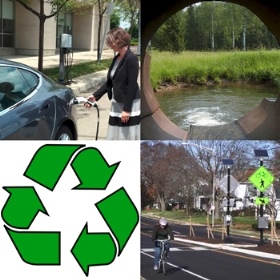 Welcome to MVRPC's Sustainability Resource page.  It has been designed to provide you with a range of environmental and life quality sustainability topics to assist you in keeping up to date on best practices, introducing key contacts/subject matter experts, presenting additional learning opportunities and much more.  We also want you to share any information that comes your way.  In each topic, you will have an opportunity to pass along your news.
Growing Local Solar Workshop
March 20, 2019
MVRPC is teaming up with The Ohio Environmental Council, Green Energy Ohio, and the University of Dayton to host a workshop entitled Growing Local Solar: Community-based tools to enable solar development in Ohio on March 20th from 10am-3pm at the University of Dayton Daniel J. Curran Place. This workshop is open to any and all, but specifically geared toward decision-makers and their staff within county, township, city and village jurisdictions. You will walk away with knowledge and resources that can be applied in your community.
The event page and registration can be found here. The modest registration fee will cover lunch and refreshments. The day's agenda will also include a tour of the University of Dayton's Daniel J. Curran Place solar array.  Please be sure to register by March 13.  
Presentations and panel discussions with policy, legal and business experts will cover a range of topics: Community choice aggregation; solar project interconnection standards; land use, building codes and zoning considerations; neighborhood-based solar cooperatives; best practices for residential rooftop solar in historical districts and homeowners' associations; energy special improvement districts (eSIDs) and Property Assessed Clean Energy (PACE) financing, and; community engagement best practices including how to address concerns over property values.  
Sustainability Roundtable
Webinars & Conferences
Electric Vehicles
Recycling
Renewable Energy
Urban Forestry
Storm Water
Food
Public Health
Equity
The pages will be updated on a regular basis to keep it fresh and beneficial; we hope that you find this a worthwhile tool and are open to your suggestions to improve its value.  Please contact Matt Lindsay at mlindsay@mvrpc.org to provide feedback.