Bikeways & Pedestrians
Planning for Active Transportation in the Miami Valley
Active transportation is any kind of human-powered mode, but usually refers to biking and walking. Active transportation is not only for getting in shape and staying healthy – though walking and biking are excellent exercise and can be a fun way to introduce physical activity into your daily life. But keep in mind: your feet are an efficient and fun way to get around town. You'll be reducing vehicle congestion and noise, and not to mention air pollution and greenhouse gas emissions.
MVRPC has several ongoing efforts to encourage and accommodate Miami Valley residents who use active transportation, including producing a map of the Nation's Largest Paved Trail Network.  MVRPC's RIDESHARE Program is a partner of Gohio Commute, a FREE service with information on bike commute options for the Region. This program allows you to map your route, find others to join your bike commute, and track your CO2 emissions and money saved for each bike trip you take instead of a single-occupancy vehicle. Visit MiamiValleyRideshare.org to register for this FREE program.
Bikeways Map for the Miami Valley 
The 7th Edition of the Miami Valley Ohio Bikeways Map is now available. View the options for receiving a bike map either at a pick-up location or by mail.
Safe Cycling Tips
MVRPC staff developed two (2) public service announcement regarding "Safe Cycling Tips" featuring Bike Miami Valley Executive Director, Laura Estandia and MVRPC Executive Director, Brian O. Martin, AICP. Launched during "National Bike Month", these PSAs are geared to both Cyclists and Motorists. Locally over 30% of all trips are less than 2 miles from the original destination. In some cases, these are trips that could be taken by bike very easily. It's our intention to encourage residents to bike for short trips but to do so safely.
View the Cycling Safety Tips for Cyclists video
View the Cycling Safety Tips for Motorists video
MVRPC has published a brochure to help encourage the safe use of bicycles for Active Transportation. "Drive Your Bike" gives pointers on how to get comfortable with using a bicycle in place of a car for some trips. The short booklet also includes a Bicycle Equipment Checklist of recommended items for the safe operation of your bicycle, and tips for cycling safely, predictably and visibly while following the rules of the road. Pick up a copy, or download one, and give it a read.  And next time you have the time and the weather is right, why not "Drive Your Bike?"
Miami Valley Trail User Survey Report
In cooperation with trail managing agencies across the Miami Valley and with the help of many dedicated volunteers, MVRPC completed regional trail user surveys in 2009, 2013, and most recently in 2017. This information is collected as part of the objectives outlined in the Miami Valley Bike Plan Update 2015.
Safe Routes to School
MVRPC works with Ohio DOT (ODOT), the Safe Routes National Partnership, and many local jurisdictions to create alternative transportation options around schools.  Allowing kids to bike or walk to school increases their focus and concentration at school, and helps set lifetime patterns that reduce obesity and other negative health impacts.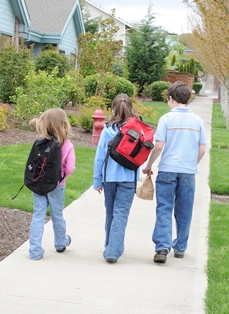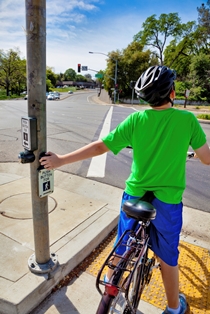 Walkable Communities
MVRPC works with member jurisdictions to enhance the environment for walking as well. Please see our Walkable Communities page for information on our projects and publications.
Bicycle and Pedestrian Safety
MVRPC's continuous safety analysis program routinely reviews crash data for accidents involving bicyclists and pedestrians. Get more information on the Transportation Safety webpage.
The "Mayors' Challenge for Safer People and Safer Streets" invites mayors and local elected officials to take significant action to improve safety for bicycle riders and pedestrians of all ages and abilities over the next year. The Challenge will showcase best local practices to improve safety, share tools for local leaders to take action, and promote partnerships to advance pedestrian and bicycle safety.  MVRPC supports and promotes this national Department of Transportation effort.