Bicycle Counting Program
Bicycle Counting Program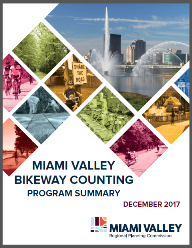 In an effort to better measure bicycling in the Region, in 2013 MVRPC began exploring a Bicycle Counting Program.  The first cycle of the program (2014-2016) has now been completed and the results are summarized in the Technical Report.
Bike and trail users counts have also been added to the online traffic and trail count viewer or can be seen on the maps below.
Trail counts are being collected from partnering trail management agencies, which have permanent trail counters installed at numerous locations on the regional bikeway network. Additionally, short-term studies will be performed with automatic bicycle counters. MVRPC staff will install these counters at strategic locations on the bikeway, roads and bike lanes for 7 days to measure bicycle traffic. MVRPC members can also checkout an automatic bicycle counter to perform similar short-term studies in their areas.
ECO-COUNTER TUBE CHECKOUT
MVRPC members can borrow automatic bicycle counters to perform short-term studies in their jurisdictions. The counting equipment can be checked out from MVRPC offices. Interested agencies should download and complete the form below:
For more information contact Aaron Lee or (937) 531-6539.