Safe Routes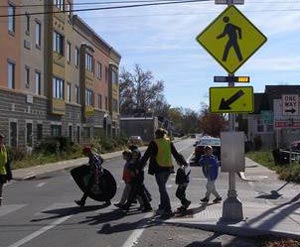 Safe Routes for Non Drivers of all ages is a part of MVRPC's Complete Streets vision, our active transportation programming, and a part of national transportation funding priorities. Many Safe Routes efforts are focused on children getting to and from school, but we are also invested in finding or creating safe routes for the seniors in our community and those individuals who cannot afford a car.
Safe Routes programs provide health benefits from walking and bicycling, community building as a result of School and City planning efforts, reduced traffic congestion, and improved Air Quality, as car trips are replaced with walking, bicycling, or transit trips. In order to approach safety planning in a comprehensive way, we support the Five E's:
Engineering
Education
Encouragement
Enforcement
Evaluation
Our Transportation Alternatives and Surface Transportation Program funding is targeted for engineering projects; while our agency programming includes trainings and resources to help local communities with the other approaches (education, encouragement, enforcement and evalution)
Adult Crossing Guard Train-the-Trainer
Crossing Guards, unlike student safety patrols, require increased knowledge of youth behavior, traffic movement and emergency protocols. This course held March 27, 2017 in Centerville, OH, provided this knowledge and hands on experience managing traffic.
Safe Routes Forums
Safe Routes Forum 2014
On Friday, June 6, 2014, Cindy Heath, with GP Red, presented a professional training workshop on Safe Routes to Play. Topics covered included: 
Safe Routes to Play Concept
PhotoVoice Training
U-Map Training
 
Attendees listen and learn at the 2013 Safe Routes Forum.
This professional training was geared to Community Planners, Safe Routes to School advocates, School and Health professionals, Parks professionals, and Landscape Architects. The youth involvement training (Photo Voice and U-Map) was directly applicable for communities engaged in park or school planning and development.
The Safe Routes Forum is supported by financial contributions from Five Rivers MetroParks, Kettering Parks Foundation, American Planning Association – Miami Valley Section, Greater Dayton RTA and MVRPC.
Safe Routes Forum, June 2013
An informative forum was held at Kettering Fairmont High School, where local communities shared their own safe routes plans and activities, and MVRPC was able to share our Transportation Alternatives funding plans.
Click to view the Safe Routes 2013 Forum Summary