Tale of the Trails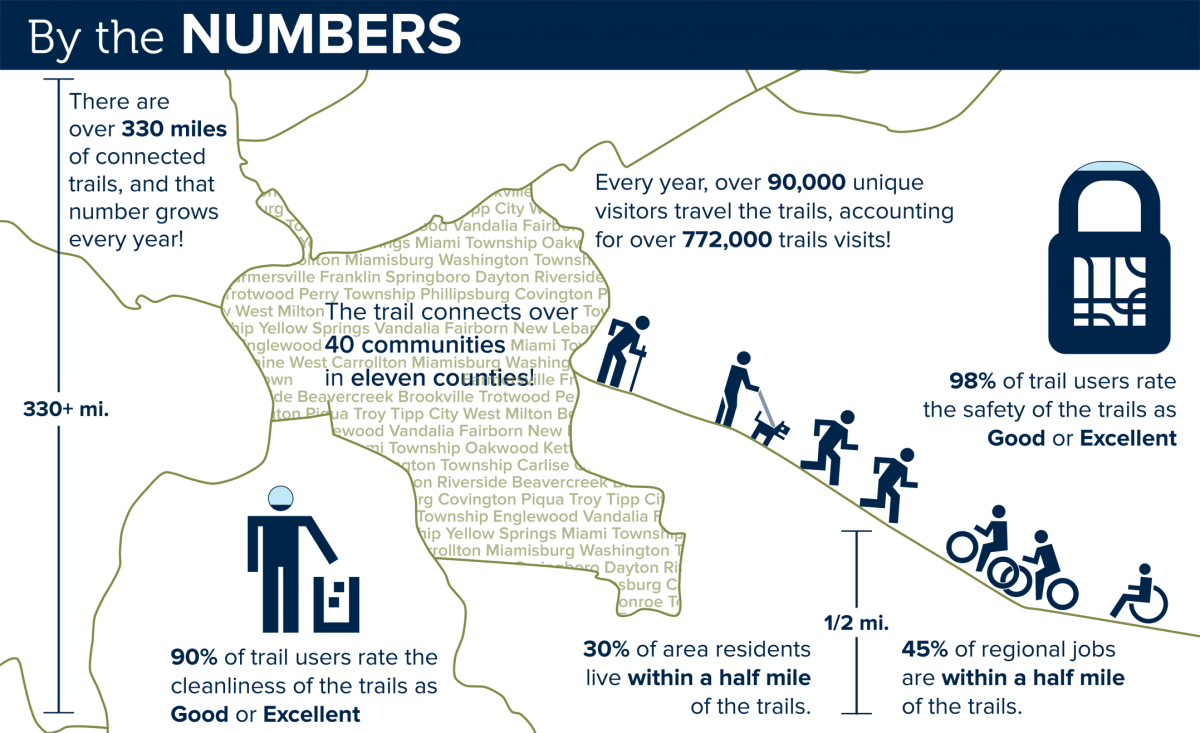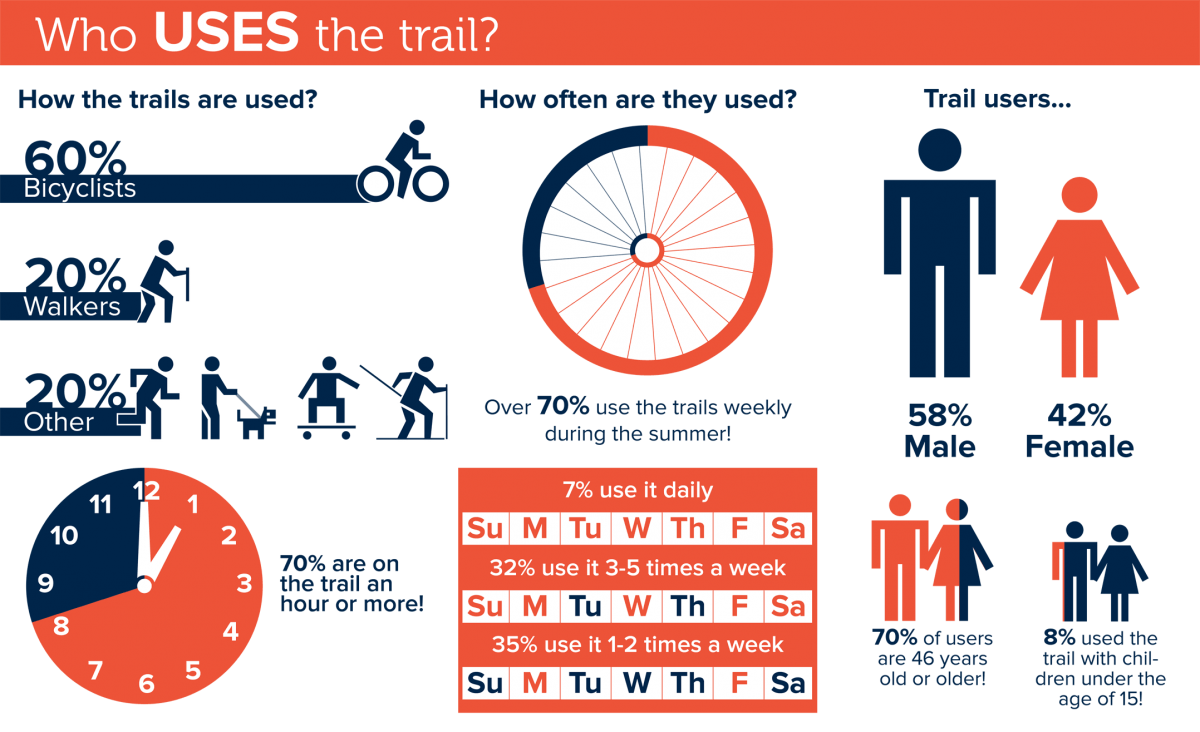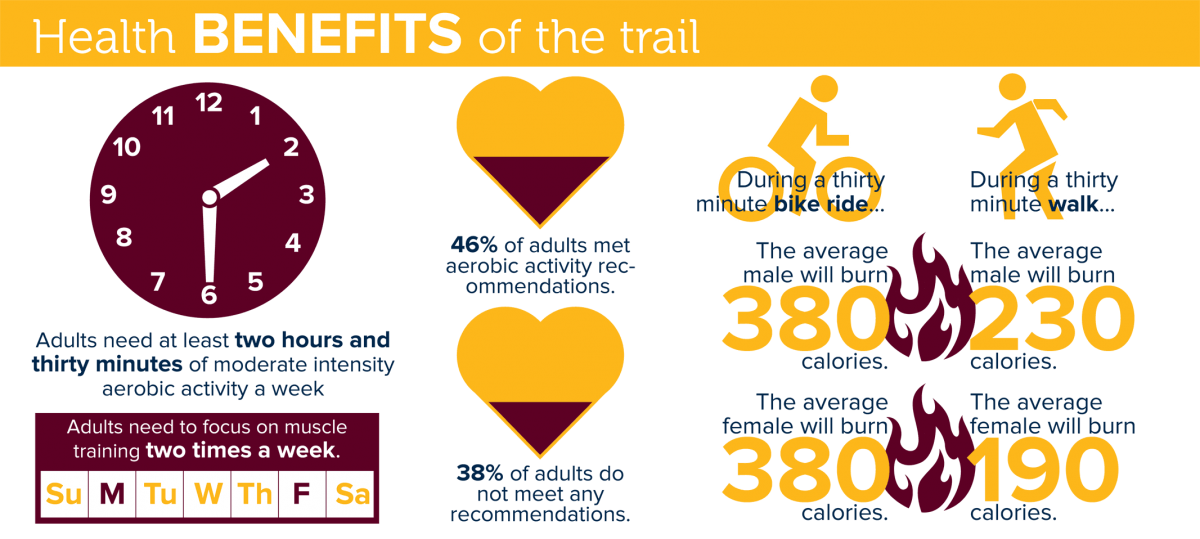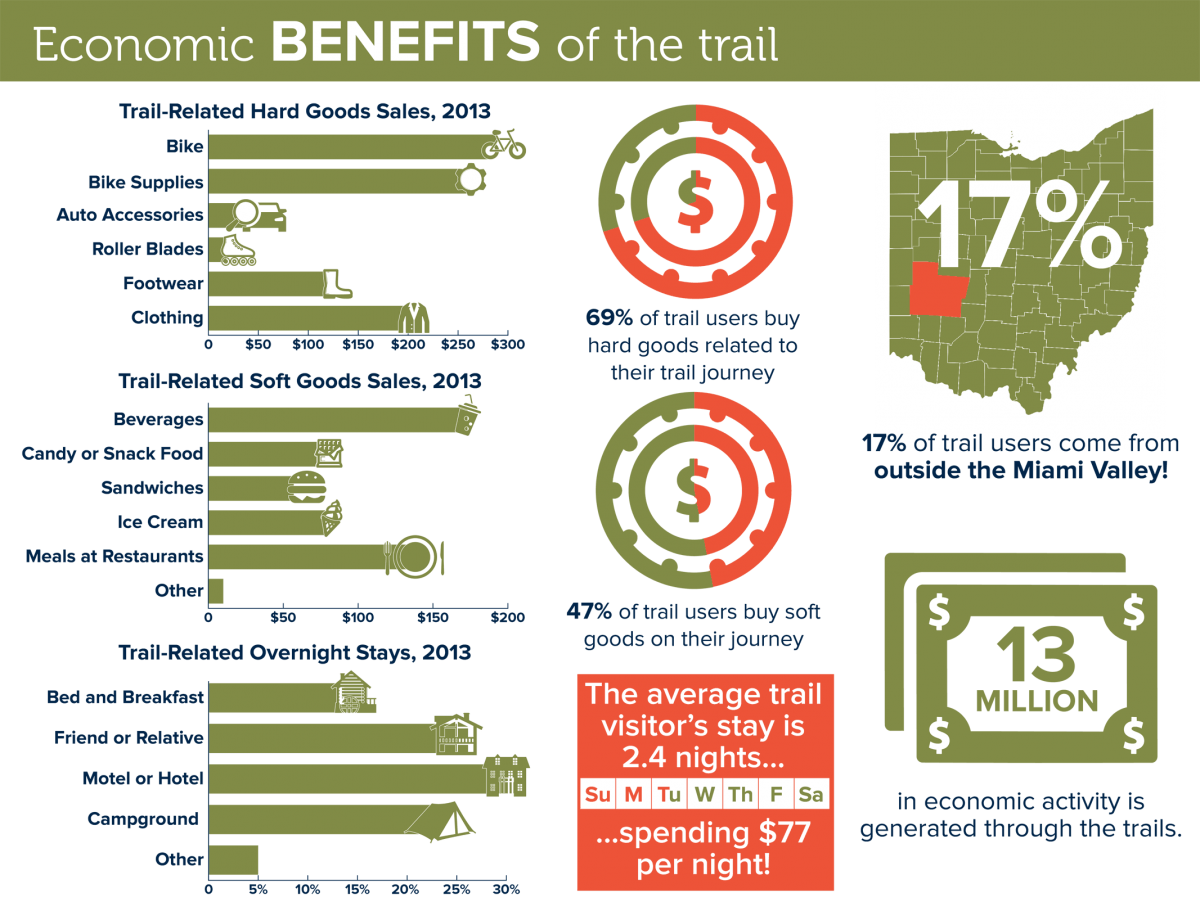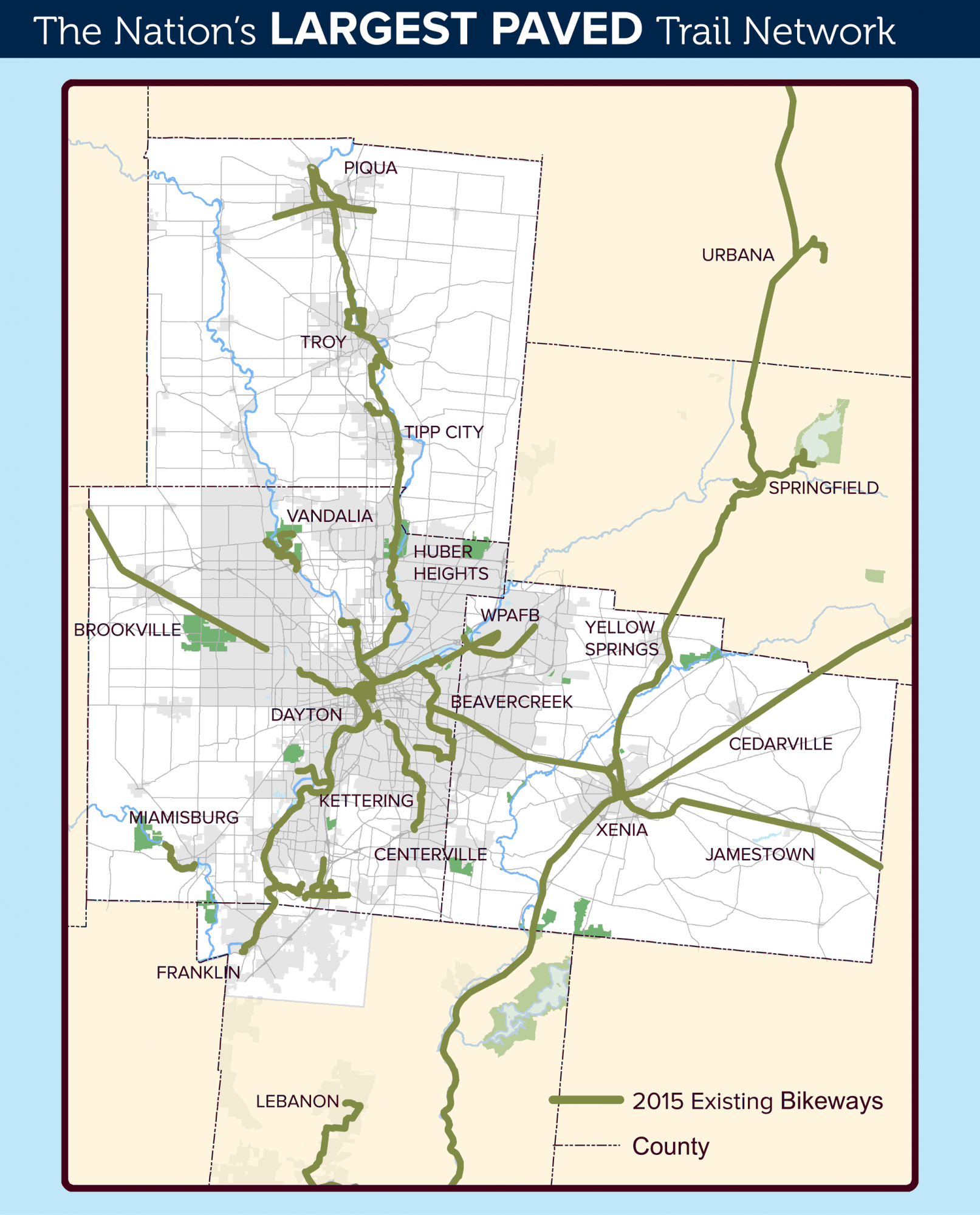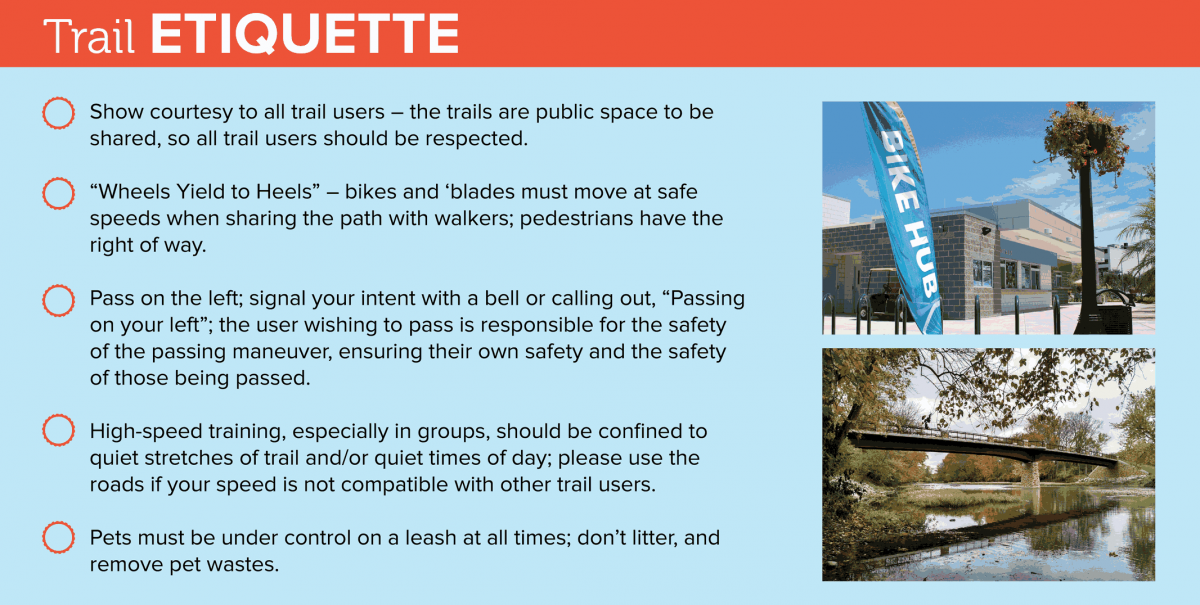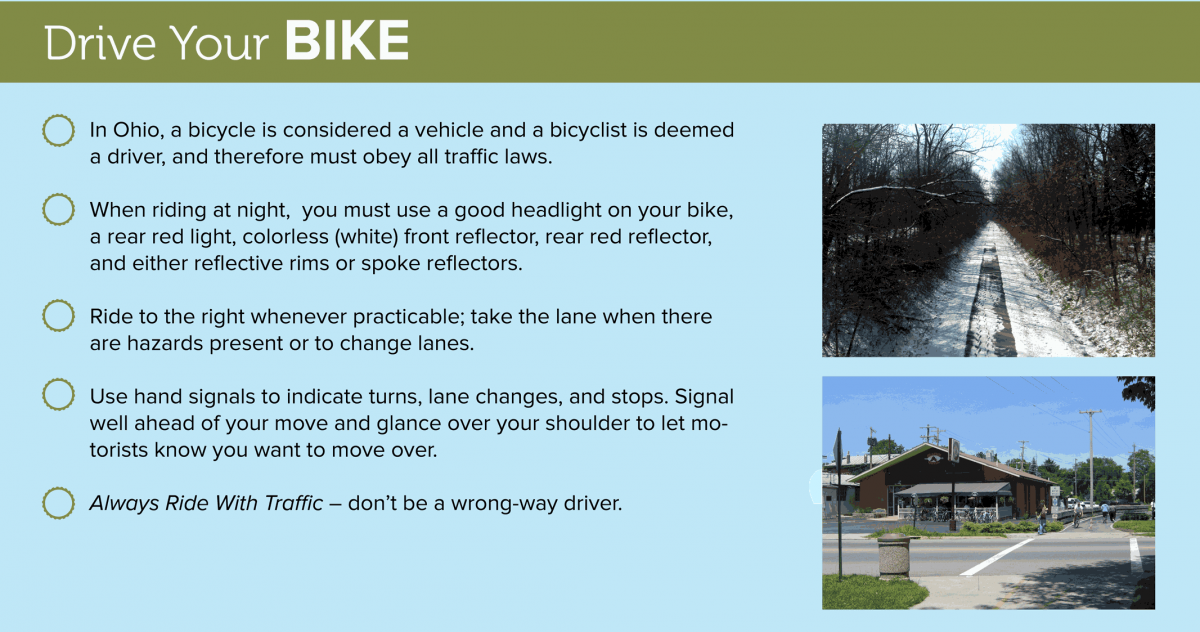 Text Only Version below:
Tale of the Trails
The Miami Valley boasts the Nation's Largest Paved Trail network. That network offers many benefits to the people that utilize those trails. For more information, visit MiamiValleyTrails.org.
By the Numbers
There are 330 miles of connected trails, and that number grows each year.
The trail connects over 40 Communities in eleven counties.
Every year, over 90,000 unique visitors travel the trails, accounting for over 772,000 annual trail visits.
90% of trail users rate the cleanliness of the trails as good or excellent.
98% of trail users rate the safety and security of the trails as good or excellent.
30% of area residents live within a ½ mile of the trails network, and 45% of regional jobs ae within a half mile of the trails.
Who uses the trail?
60% Bicyclists, 20% Walkers, 20% Other (Jogging/Running, Walking Pets, Roller Blade/Skating, X-Country Skiing).
Over 70% use the trails weekly during the summer.
7% use it daily, 32% use it 3-5 times per week, 35% use it 1-2 times per week.
70% are on the trail an hour or more.
Trail users are 58% Male, 42% Female.
70% Trail users are 46 years old or older.
8% used the trail with children under the age of 15.
Health Benefits of the trail
Adults need at least 2 hours and 30 minutes (150 minutes) of moderate intensity aerobic activity a week, and muscle strengthening activities that work all major muscle groups on 2 or more days a week (2008 Physical Activity guidelines for Americans).
46% of adults met the aerobic activity recommendation
25% met the strength training recommendation
21% met both physical activity recommendations
38% did not meet either recommendation
During a thirty minute bike ride…
The average male will burn 380 calories.
The average female will burn 330 calories.
During a thirty minute walk…
The average male will burn 230 calories.
The average female will burn 190 calories.
Depending on your weight, you can burn between 215-500 calories during a 30-minute bike ride. 
Economic Benefits of the trail
17% of trail users are from outside the region bringing in their dollars
The trails generate $13 million in economic activity every year!
69% of trail users buy hard goods related to their trail journey.
Trail-related Hard Goods Sales, 2013: $563.04 spent on average
47% of trail users buy soft goods on their journey.
Trail-related Soft Goods Sales, 2013: $15.78 average spending per visit
The average trail visitor's stay is 2.4 nights… spending $77 per night.
Data Background
Ohio's Miami Valley Region provides over 340 miles of paved, multi-use recreational trails. Stretching across county lines, these trails connect schools, parks, historic landmarks and area attractions. Path users travel through meadows, scenic countryside, forested areas and city centers. Our great system of trails enhances both the wellness and quality of life of Miami Valley residents and visitors. All trails are free and open to the public every day of the year, from dawn till dusk.
In 2009 and again in 2013, MVRPC and our partner agencies took to the trails for two days of counting and survey-taking. Data is taken from 2013 survey unless noted. The counts and surveys were conducted on a Sunday and a Wednesday in July and August each time. Full reports on both 2009 and 2013 counts and user surveys can be found at www.mvrpc.org/transportation/bikeways-pedestrians/trail-user-surveys.
Calorie data for bicycling and walking comes from www.healthstatus.com/perl/calculator.cgi.
For interactive maps and trip planning, go to www.MiamiValleyTrails.org
Discover more at www.bikemiamivalley.org