Sustainable Miami Valley Toolkit
Sustainable Miami Valley Tool Kit
The Miami Valley Regional Planning Commission is working to support efforts across the Region to promote environmental sustainability and build resilience. The "Sustainable Miami Valley Tool Kit" was developed with the assistance of many partners to support regional efforts, and came from the Sustainable Solutions and Environment goal in MVRPC's Strategic Plan. The Tool Kit is a resource guide for local governments seeking to educate their residents, improve environmental performance of internal operations, save money, and participate in the larger regional effort to combat the global issues posed by a changing climate.
Each chapter of the Tool Kit contains suggested policies, codes, ordinances, programs, and projects which local government can adopt or adapt to address nine separate environmental topic areas:
Introduction
Your overview to the Sustainable Miami Valley Tool Kit.
The Sustainable Miami Valley Tool Kit is designed to serve local government officials tasked with making their communities more environmentally sustainable, while also conserving budget dollars. Additionally, it can be useful for businesses and residents of the Miami Valley inclined to work with their local governments to make lasting positive change in their communities.
Each chapter of the Tool Kit contains suggested policies, codes, ordinances, programs, and projects which local government can adopt or adapt to address nine separate environmental topic areas: Air Quality, Energy, Food, Green Building, Land Use, Solid Waste, Transportation, Trees, and Water Quality.
Each topic has its own chapter, but naturally, there is a great deal of overlap between these topics, and there are cross-references throughout the Tool Kit. The suggestions found in each chapter are categorized for even easier comprehension. "Community Education & Outreach" suggests ways to demonstrate leadership or educate community residents about the local government's sustainability efforts. "Internal Operations" are steps an administration can take with community staff, the publicly-owned buildings, properties, and vehicles. The "Ordinances and Policies" category highlights official actions elected officials can adopt to guide their community to a more sustainable path. Finally, "Broader Collaboration" refers to opportunities to partner with other local governments and other organizations to effect regional or state-wide change.
The Miami Valley Regional Planning Commission is pleased to partner with the Dayton Regional Green Initiative to promote this resource guide for our Region. For the 2019-2020 program year, the Sustainable Miami Valley Tool Kit is linked with the Bring Your Green Community Challenge. Throughout the chapters look for the "BYG" tag for policies, programs, and projects that directly link to the Bring Your Green government tracking platform. Use the Tool Kit as your community's catalog of efforts to initiate and earn points in the Regional challenge.
At over 50 pages, this Tool Kit may seem overwhelming at first. It is true, there is a lot in here to consider, but communities should use the Tool Kit to find the right beginning or next steps, and not feel they need to take on too much at once. Use the Tool Kit's structure to navigate through the lists and select one or two topics or ideas. Keep your community's efforts manageable, and contact MVRPC staff for support or guidance. A good overarching starting point is to create an Environmental Advisory Committee of citizens, businesses, elected officials, and community staff BYG.
Perhaps this body could award an annual Sustainability Champion recognition for your resident volunteers. By getting many minds and many hands working together, you may be able to create a more effective sustainability effort in your community. And remember: communities should seek professional guidance before making changes to ordinances, codes, and policies.
Getting started is not difficult: sign up through the Bring Your Green portal site and use the challenge as an opportunity to showcase your community's sustainability work. Participating communities will be prompted throughout the challenge with opportunities to engage with your residents, community staff, and local businesses about sustainability and the environment.
Acknowledgements
The Sustainable Miami Valley Tool Kit was inspired by a document produced by the Cuyahoga County Office of Sustainability. Many thanks to Director Mike Foley for encouragement to adapt the resource guide for the Miami Valley. This guide adopts a similar tone and structure to the Cuyahoga document, and updates the resources and program suggestions to reflect recent developments and programs based here in the Miami Valley. The lists found in each chapter were reviewed by regional experts.  MVRPC is grateful for the assistance provided by representatives of these organizations in the review of the drafts of this Tool Kit and contributions of additional resources:
Arthur Morgan Institute for Community Solutions / Agraria Center
B-W Greenway Community Land Trust
Cincinnati Energy Alliance
City of Cincinnati
Co-op Dayton
Dayton Children's Hospital
Dayton Regional Green
Emersion Design
Energy Optimizers, LLC
Five Rivers MetroParks
Greater Dayton Regional Transit Authority
GreeneCATS Public Transit
Hall Hunger Initiative
Heapy Engineering
Miami Conservancy District
Montgomery County Environmental Services
Montgomery County Soil & Water Conservation District
Ohio Department of Natural Resources
Ohio Department of Transportation
Preble County Solid Waste District
Public Health Dayton-Montgomery County
Regional Air Pollution Control Agency
Shared Harvest Foodbank
The Foodbank, Inc.
The Ohio Environmental Council
U.S. Green Building Council – Ohio Community
University of Dayton
Woolpert
Wright State University
As a document that primarily exists on the web, the Tool Kit can be updated regularly as new information becomes available.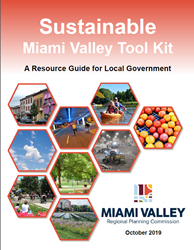 Please join these organizations listed above and contribute your knowledge and expertise to this effort. Send your comments and suggestions to the Strategy, Engagement, Transportation and Sustainability team at mlindsay@mvrpc.org.
View an Overview of the Sustainability Toolkit presentation, or download the entire document here.
The contents of this document reflect the views of the Miami Valley Regional Planning Commission (MVRPC), which is responsible for the facts and accuracy of the data presented herein. MVRPC is not responsible for content from linked external resources. The contents do not necessarily reflect the views of the U.S. DOT or ODOT. This document does not constitute a standard, specification, or regulation.
If you are using an e-reader and encounter problems with this page, please contact Matt Lindsay, Manager, Environmental Planning at (937) 531-6548 for assistance.