Long Term Disaster Recovery Leadership Board
The Miami Valley Regional Planning Commission (MVRPC), Montgomery County, The Dayton Foundation and leaders from the Disaster Recovery Network announced the formation of the Disaster Recovery Leadership Board earlier this Spring. The board will provide strategic leadership, oversight and transparency regarding the disaster recovery efforts in our Region. The board also will assist with fundraising, communications, and potential policy and protocol creation to aid in rebuilding and recovering our Region post-disaster.
Chairing the board is Woodrow Stroud, a representative from the MVRPC Board of Directors and the Greene County Transit Board.
"The 2019 Memorial Day tornadoes that struck the Miami Valley were unlike anything we've experienced before," Stroud said. "Disaster recovery is extremely complicated and will take years to complete, but through the work of both the individual and community Long-Term Disaster Recovery Networks, with oversight by this experienced and diverse Leadership Board, we will offer further transparency for the community as we all work to meet both individual and community needs of our Region."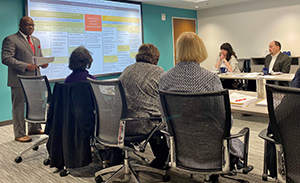 The board consists of 17 voting members, 12 of whom are from local, core institutions and 5 are community members representing various part of the region.
Members of the board include:
Tom Gunlock, Community Member at Large
Sarah Hackenbracht, Greater Dayton Area Hospital Association
Rap Hankins, Community Member at Large
Brian Heitkamp, CityWide Development Corporation
Ellen Ireland, The Dayton Foundation
Helen Jones-Kelley, Sinclair Community College
Todd Kinskey, City of Dayton
Tom Koogler, Greene County Commissioner
Julie Liss-Katz, Dayton Business Committee
Debbie Lieberman, Montgomery County Commissioner
Tony Ortiz, Community Member at Large
Chris Kershner, Dayton Area Chamber of Commerce
Joel Smith, Miami County Emergency Management
Father Ben Speare-Hardy, Community Member at Large
Julie Sullivan, Dayton Development Coalition
Roland Winburn, Community Member at Large
The true essence of leadership is to serve as a guide through the most challenging circumstances. We are grateful to these community leaders for their willingness to serve the Region as we all collaborate on disaster recovery.