Trail User Surveys
Every four years since 2009, MVRPC has coordinated multiple trail-managing agencies across the Miami Valley to conduct a regional trail user survey. Efforts in August 2009, August 2013 and September 2017 have fulfilled objectives in the Comprehensive Local-Regional Bikeways Plan and the Miami Valley Bike Plan Update 2015. The surveys, counts, and reports represent the combined efforts and commitments of multiple trail managing agencies and the countless volunteer hours they are able to bring to bear for this project.
With each iteration of the survey, the effort has evolved to include more communities, expanded questions, and new technologies. These changes reflect the increased reach and connectivity of the Miami Valley Trails themselves, as well as the growing partnership and collaboration of the many agencies that manage parts of the system. Despite the development of the survey project, the core findings of the surveys are comparable from year to year, and serve as a baseline for understanding how, when, and by whom our Miami Valley Trails are being experienced.
The 2017 survey was the most extensive survey undertaken to date. Survey locations were stationed in seven counties along the Miami Valley Trails (see map). From Franklin to Cedarville, from Greenville to Urbana project volunteers collected 1,170 surveys and counted over 8,800 trail users.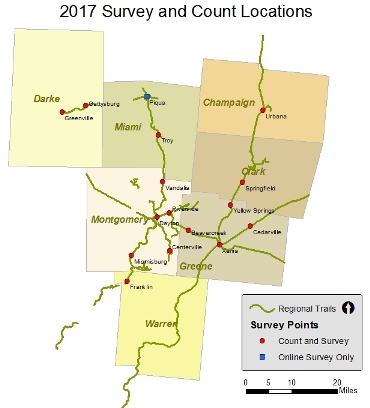 The following agencies and organizations provided volunteers and person-hours to the Miami Valley Trail User Survey Report for 2017:
Five Rivers MetroParks
Greene County Parks & Trails
Miami County Park District
Centerville-Washington Park District
Miami Conservancy District
Darke County Park District
National Trails Parks and Recreation District
Simon Kenton Pathfinders
City of Piqua
The following Miami Valley Trail User Survey Reports are available for review:
A complementary effort at MVRPC is the Bicycle Counting Program. Also in coordination with many trail-managing agencies, this program seeks to aggregate automated trail user counts and short-term bike counts to measure the use of bicycling across the Region.