Miami Valley Rideshare
During this pandemic, social distancing is important and carpooling and vanpooling together may not be practical. We encourage you to look into this option and set up a carpool or vanpool situation when it is safe to do so. Now is a great time to plan for your future commute needs. Questions: Please call 937.223.SAVE or email rideshare@mvrpc.org.
The Miami Valley Regional Planning Commission sponsors the local RIDESHARE Program which is available for FREE to anyone who lives, works or attends college in Montgomery, Greene, Miami, Preble, Darke and Clinton Counties. When you register for RIDESHARE, the matching software will try to link you with others who live near you and work/attend college near you too. You'll receive a match list of people who have similar schedules and destinations. You can contact them and make arrangements to form a carpool or vanpool. MVRPC's RIDESHARE Program is a partner of Gohio Commute, a FREE service with information on commuting options. If you have questions or need help registering, please email rideshare@mvrpc.org or call 937.223.SAVE.
Register for the RIDESHARE Program.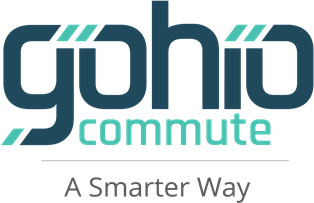 Carpooling – it has many benefits:
Save money by sharing the ride with one other person, you can cut your commuting costs in half.
Reduce wear on your personal vehicle.
Lower your stress by sleeping, reading or relaxing while riding as a passenger. You can determine a schedule and share driving responsibilities accordingly.
Meet new people and make new friends with your carpool companions.
Reduce traffic congestion since fewer vehicles on the road means a free-flowing commute.
Improve the environment since fewer vehicle emissions mean cleaner air.
Vanpooling – benefits a larger group:
If you have a long commute (over 25 miles one-way), you and a group of up to 14 people may be interested in renting a van on a monthly basis. The monthly vehicle rental rate is based on the size of the vehicle, the number of people riding in the van and the average monthly mileage. The monthly rental rate is divided among the passengers and each pays the same amount each month. Call 937.223.SAVE or 1.800.743.SAVE or email rideshare@mvrpc.org to speak with a RIDESHARE representative about this option.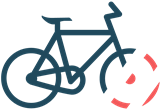 bIKEPOOL - cycling together:
If you are interested in biking to work with others, there's a place on the RIDESHARE application where you can indicate your interest and receive a match-list of other cyclists.
 
Transit

For more information on transit options in the area, visit mvrpc.org/transit.
For more information or help with your profile, please call 937.223.SAVE or 1.800.743.SAVE or email rideshare@mvrpc.org
 
Guaranteed Ride Home Program
If you register for RIDESHARE, you are automatically eligible for the Guaranteed Ride Home (GRH) Program. This program provides registered users with a guaranteed ride home or to the site of an emergency when needed. GRH reimburses participants 80% of a taxicab ride up to 4 times in a 12 month period.
You can use GRH if:
You or a member of your family becomes ill;
You unexpectedly must work past your normal quitting time;
Your regular carpool/vanpool driver has to leave early.
Download the GRH Reimbursement Form
Download the RIDESHARE Program PDF
Tips for Successful Ridesharing
Meet with your future "poolers" before the trips.
Determine morning/evening pickup points, route and time schedule.
Establish a "driver schedule" which identifies who drives and when.
Agree on smoking, eating, drinking and music policies.
Be on time. Decide, as a group, how long the driver is to wait.
Establish a chain of communication to notify each other in case of illness or other changes.
If a member of the group doesn't drive, determine a method for reimbursing driving expenses.
Be courteous. Don't blow your horn repeatedly for your passengers and passengers, be ready to go.
Remember, a conversation isn't always necessary. Some prefer to sleep or work during the ride.
Contact RIDESHARE if you need another pooler to receive an updated list.
Tips for finding more matches
Adjust your commute time on your profile. If you normally leave at 7:00 a.m., but are willing to leave at 6:30 a.m., you may find a new match in your area. Modify the start and end times to see if a new match appears.
Adjust the match radius area around your home or work. Could someone drop you off on their way so you could meet a carpool?
Talk to your coworkers or post a flyer in the break room to let people know you are looking to rideshare. Maybe they know a friend who would want to rideshare.
Contact other businesses near your work and let them you are looking for someone to rideshare. They may know someone in their company who has been looking as well. Ask if they would mind posting a flyer in their break room.
Be social. Ask your social network followers if anyone is looking to rideshare.
 
Registration disclaimer
Information submitted in this rideshare application may be shared with other rideshare applicants for the purpose of allowing applicants to communicate with each other to determine mutually agreeable ride sharing arrangements. Shared information will be limited to name, work location and contact phone number(s). The rideshare programs will not sell, lease or release this or any other private information submitted in this application to any other parties, unless required by law. Applicants and participants may remove their information from the system by contacting the rideshare program by telephone, email or through the US mail.
The rideshare programs do not screen applicants or participants in the rideshare programs. No background check, criminal or otherwise, is performed. Driving records are not reviewed. Applicants and participants may or may not possess a valid driver license. All applicants and participants use this rideshare service at their own risk.