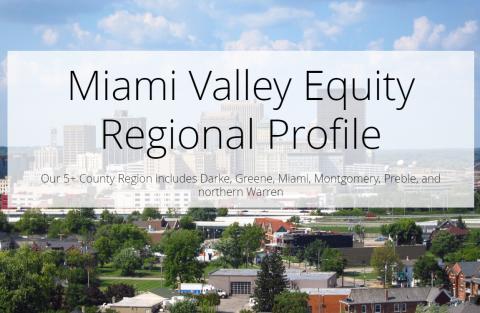 Dayton, OH – The Miami Valley Regional Planning Commission (MVRPC) is pleased to introduce the Miami Valley Equity Regional Profile. Both a printable version and a dynamic, web-based profile are available.
Developed in partnership with the nationally recognized Kirwan Institute for the Study of Race and Ethnicity at the Ohio State University, the Miami Valley Equity Regional Profile provides historical context on the issue of equity and presents an analysis of equity from the perspectives of places and people. The profile presents an analysis of equity at the regional and sub-regional level including historical trends from 1980 to 2010 and a comprehensive look at equity for 2014.
In terms of this research, "equity" means that all people, regardless of where they live, have access to the resources and opportunities that improve their quality of life, allowing them to reach their full potential. Inequity is found when people experience barriers based on some form of isolation from needed resources.
The data analysis revealed inequity has deepened over the years and the Miami Valley Region is facing two significant issues in terms of inequity: racial and economic segregation.
"Understanding and addressing the issues of equity is essential to building a more resilient and sustainable Region. Inequity affects the Miami Valley's ability to keep and attract people and jobs. The choices we make about future transportation and development projects can help expand access to opportunity in our Region," explained MVRPC's Executive Director, Brian O. Martin, AICP.
"MVRPC, in partnership with the U. S. Department of Transportation's Ladders of Opportunity Initiative, seeks to revitalize communities, connect people to resources, and improve economic vitality and socioeconomic mobility. We hope that this profile increases awareness of our pressing matters, and sparks collaborative efforts to ensure that all residents have the opportunity to succeed and take part in the Region's future prosperity," Martin noted.
The Kirwan Institute for the Study of Race and Ethnicity was established in 2003 as a center for interdisciplinary research at The Ohio State University. The Kirwan Institute works to create a just and inclusive society where all people and communities have opportunity to succeed.
Established in 1964, the Miami Valley Regional Planning Commission promotes collaboration among communities, stakeholders, and residents to advance regional priorities.  MVRPC is a forum and resource where the Board of Directors identifies priorities and develops public policy and collaborative strategies to improve quality of life throughout the Miami Valley Region.  MVRPC performs various regional planning activities, including air quality, water quality, transportation, land use, research and GIS.  As the designated Metropolitan Planning Organization (MPO), MVRPC is responsible for transportation planning in Greene, Miami and Montgomery Counties and parts of northern Warren County. MVRPC's areawide water quality planning designation encompasses five (5) counties: Darke, Preble plus the three MPO counties. The Equity Regional Profile examined the 5+ counties.
For more information about Equity Regional Profile, contact MVRPC's Director of Regional Planning, Martin Kim, at mkim@mvrpc.org, or at 937.223.6323.