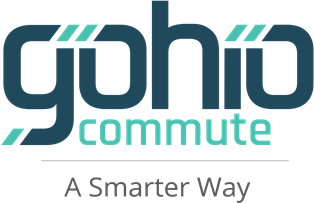 Dayton, OH – The Miami Valley Regional Planning Commission's (MVRPC) RIDESHARE Program is pleased to announce it's now part of a statewide initiative which features updated ride matching software plus a new name and tagline (Gohio Commute – A Smarter Way). The FREE service is available to anyone who lives, works, or attends college in Montgomery, Greene, Miami, Darke, Preble, or Clinton County. The software helps match people who want to commute together to work or college.
"The name Gohio Commute emphasizes the statewide coverage of the program and the tagline, A Smarter Way, highlights how using alternative transportation options, such as carpooling/vanpooling or riding a bike to your destination, can really be a smarter way to commute," explained MVRPC's Executive Director, Brian O. Martin, AICP.  
Features of the new website include a mobile-friendly platform, direct messaging to others with whom the user has matched, ability to track trips to gauge their environmental impact, and information about other transportation options in the Region. Commuters can register at www.MiamiValleyRideshare.org or call the RIDESHARE hotline at 1-800-743-SAVE or 937.223.SAVE.
The Miami Valley Regional Planning Commission's RIDESHARE Program, along with six other Ohio-based ridesharing programs, is a member the Ohio Association of Regional Councils (OARC). OARC contracted with RideAmigos, an industry leader specializing in providing transportation demand management systems, to develop the ride matching program.
Established in 1964, the Miami Valley Regional Planning Commission promotes collaboration among communities, stakeholders, and residents to advance regional priorities.  MVRPC is a forum and resource where the Board of Directors identifies priorities, develops public policy and collaborative strategies to improve quality of life throughout the Miami Valley Region. MVRPC performs various regional planning activities, including air quality, water quality, transportation, land use, research and GIS.  As the designated Metropolitan Planning Organization (MPO), MVRPC is responsible for transportation planning in Greene, Miami and Montgomery Counties and parts of northern Warren County. MVRPC's areawide water quality planning designation encompasses five (5) counties: Darke, Preble plus the three MPO counties.
For more information, contact Laura A. Loges, Director of Marketing & Public Affairs, at lloges@mvrpc.org or call 937.223.6323.
###