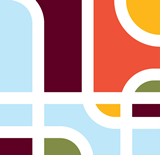 A New Miami Valley Geo-Spark Portal is Now Available
MVRPC is pleased to release a new geospatial portal Miami Valley Geo-Spark. Through this new portal, MVRPC is offering direct access to our Geographic Information System (GIS) datasets and maps of the Miami Valley Region. The Miami Valley Geo-Spark is available at https://geospark-mvrpc.opendata.arcgis.com/.
The Miami Valley Geo-Spark has three distinct sections: Open Data, Gallery, and Initiatives.
The Open Data section provides over 100 different geographic datasets. Users can search or browse through datasets and download them into different data formats.
The Gallery section contains over 50 different interactive online maps on a variety of topics. Users can view a simple, easy-to-use web map or a more robust mapping application.
The Initiatives section features the agency's recent projects involving geospatial data.
MVRPC's GIS program plays a leadership role in promoting the use of GIS in the Miami Valley Region, in partnership with GIS professionals in the Region.