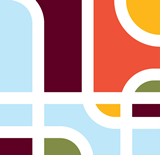 The Miami Valley Regional Planning Commission announces the launch of The Institute for Livable & Equitable Communities.
The purpose of the Institute is to convene critical private and public partners from all sectors and be the central point of coordination for a long-term, multi-faceted effort in our Region to address nine domains proven to enhance livability and equity in communities:
 The Built Environment, Outdoor Spaces & Buildings
Transportation
Housing
Social Participation
Respect and Social Inclusion
Civic Participation
Communication
Community Support and Health Services
Education
There will be an intentional focus on equity, launching programs and transforming systems that create an environment where people of all ages, races, incomes and abilities can thrive.
The Institute will coordinate research and assemble data; lead a robust community engagement process to facilitate a high-level strategic plan which identifies needs, resources and potential actions for each domain; secure grants and alternative funding; leverage the region's resources for collective impact; and create the opportunities for communities and organizations to implement an ever evolving range of demonstration projects to advance livable & equitable communities throughout the region.
Learn more about the Institute for Livable & Equitable Communities.