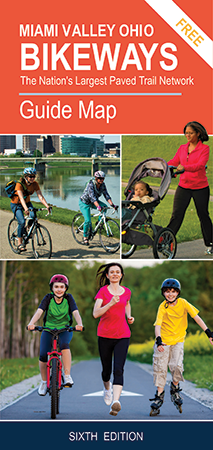 Dayton, OH – The Miami Valley Regional Planning Commission (MVRPC) is pleased to announce the release of the sixth edition of the Miami Valley Ohio Bikeways Guide Map. The map will be available from local park districts, some local governments, and libraries beginning in mid-June. Please check with the local office for current hours of operation during this time. Copies of the map can be requested through MVRPC's website at mvrpc.org/bikeways-maps.
"The Miami Valley Region is home to the Nation's Largest Paved Trail Network – a network of 350 miles of paved, off-street trails," stated Brian O. Martin, MVRPC's Executive Director. "This popular map is a comprehensive resource for those looking to explore the expanding network."
The map highlights trails across ten counties in Ohio with connections to Columbus' and Cincinnati's bike trails are also noted. Information is also provided about the seven state and national trails that pass through the Miami Valley, including the North Country Scenic Trail, U.S. Bicycle Route 50, and the Buckeye Trail.
"We are extremely grateful for our sponsors who help offset the cost to print these maps. These sponsorships provide critical funding enabling the park districts, local governments, and libraries to provide the maps free-of-charge," explained Martin.
This year's "Presenting Sponsor" is Mike's Indoor Bike Park. Returning sponsors include Dayton Children's Hospital, Dayton Cycling Club, Bike Miami Valley, Friends of Xenia Station, Lee's Famous Recipe Chicken and Strips, City of Miamisburg and Great Miami Outfitters. New sponsors include City of Xenia, Champaign County Chamber of Commerce, City of Beavercreek, Kettering Bike Shop and The Hearthstone Inn.
Established in 1964, the Miami Valley Regional Planning Commission promotes collaboration among communities, stakeholders, and residents to advance regional priorities. MVRPC is a forum and resource where the Board of Directors identifies priorities, develops public policy and collaborative strategies to improve quality of life throughout the Miami Valley Region. MVRPC performs various regional planning activities, including air quality, water quality, transportation, land use, research and GIS. As the designated Metropolitan Planning Organization (MPO), MVRPC is responsible for transportation planning in Greene, Miami and Montgomery Counties and parts of northern Warren County. MVRPC's areawide water quality planning designation encompasses five (5) counties: Darke, Preble plus the three MPO counties.
For additional information, visit mvrpc.org/bikeways-maps or contact Matt Lindsay, MVRPC's Environmental Manager, at (937) 223-6323 or email at mlindsay@mvrpc.org
###