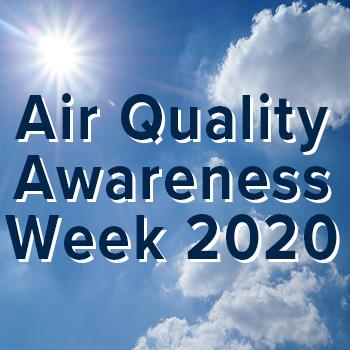 Dayton, OH – The Miami Valley Regional Planning Commission will promote National Air Quality Awareness Week, May 4 – May 8, 2020, in partnership with the U.S. EPA and Air Now, to promote this year's theme Better Air, Better Health. Follow the hashtag #AQAW2020 and #ItAllAddsUptoCleanerAir on MVRPC's Facebook and Twitter pages to view messages about how to stay aware of air pollution levels and how to be more mindful of your own contributions to air pollution.
"Due to the coronavirus pandemic, there has been a decrease in vehicle miles traveled, especially in single occupancy vehicles, resulting in a reduction of air pollution," stated MVRPC's Executive Director, Brian O. Martin. "Telecommuting, carpooling, vanpooling, taking transit and biking are options everyone can try that will contribute to better air quality in the Region and to continue the reduction of pollution from vehicle miles traveled even after the stay at home order is lifted."
Poor air quality affects everyone; however, some individuals are particularly sensitive to air pollutants, including children and adults who are active outdoors, the elderly, and those with chronic respiratory diseases such as asthma. MVRPC partners with the Regional Air Pollution Control Agency (RAPCA) on air quality issues. RAPCA is responsible for monitoring and reporting air quality readings in Montgomery, Greene, Miami, and Clark Counties. On days when air pollution levels are forecasted to increase, an Air Pollution Advisory (APA) will be issued. It's especially important on these days that the elderly, young children and those with breathing problems modify behavior and limit outdoor time. Visit MiamiValleyAir.org or call 937.223.6323 for more information.
Established in 1964, the Miami Valley Regional Planning Commission promotes collaboration among communities, stakeholders, and residents to advance regional priorities. MVRPC is a forum and resource where the Board of Directors identifies priorities and develops public policy and collaborative strategies to improve quality of life throughout the Miami Valley Region. MVRPC performs various regional planning activities, including air quality, water quality, transportation, land use, research and GIS. As the designated Metropolitan Planning Organization (MPO), MVRPC is responsible for transportation planning in Greene, Miami and Montgomery Counties and parts of northern Warren County. MVRPC's areawide water quality planning designation encompasses five (5) counties: Darke, Preble plus the three MPO counties.
For additional information, contact Stacy Schweikhart, MVRPC's Director of Strategy and Engagement, at (937) 223-6323 or sschweikhart@mvrpc.org.