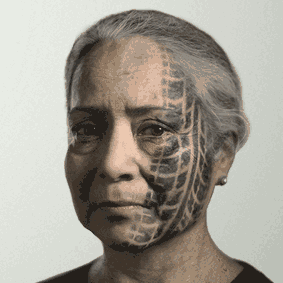 Dayton, OH – The Miami Valley Regional Planning Commission proudly accepted a "SAFETYS" Award today from the Ohio Department of Transportation for the "Street Smart" pedestrian safety campaign which was launched in 2016.
"The selection committee was impressed by MVRPC's efforts to work with local partners, including the Greater Dayton Regional Transit Authority (GDRTA) and Public Health Dayton & Montgomery County (PHDMC), to help spread the word about pedestrian safety. These agencies supported the campaign and saw a real opportunity to collaborate. Pedestrian safety is important because almost everyone is a pedestrian at some point in their regular travels.  For three years in a row, pedestrian deaths in Ohio have risen.  We appreciate MVRPC's early efforts to address this growing safety issue," stated Michelle May, Program Manager with ODOT's Highway Safety Program.
The award included a $3,000 grant which can be used toward purchasing traffic safety materials. The campaign was selected out of 15 nominations.
"The "Street Smart" campaign was developed to be a powerful reminder that crashes involving pedestrians never end well," stated MVRPC's Executive Director, Brian O. Martin, AICP.  "The images represent people in your life such as your neighbor, family member, or friend.  We want to remind everyone to watch out for pedestrians and that pedestrians should stay alert, establish eye contact with drivers, and walk defensively."
The winning campaign consisted of poster and digital billboard ads, newspaper ads, bus exterior ads and interior audio ads, social media posts, and a webpage with safety tips for pedestrians and drivers. The billboard ads were located along arterial roadways throughout the Miami Valley that had higher vehicle, transit, and pedestrian traffic. The transit vehicles with exterior ads were featured on numerous GDRTA bus routes.  Powerful graphics of men, women, and children, with black tire tracks across their faces, reminded drivers that pedestrians are defenseless against a vehicle. Captions included "Pedestrians don't come with airbags" and "Don't be caught dead wearing black. When it's dark, wear something bright or reflective."
"We continued the campaign this year with some new graphics and captions including "You can't fix a pedestrian in a body shop. Slow down and watch for pedestrians," explained Martin.  "With daylight saving time over, it's important for pedestrians to remember to make themselves visible by wearing reflective clothing or by carrying a flashlight light."
Established in 1964, the Miami Valley Regional Planning Commission promotes collaboration among communities, stakeholders, and residents to advance regional priorities.  MVRPC is a forum and resource where the Board of Directors identifies priorities, develops public policy and collaborative strategies to improve quality of life throughout the Miami Valley Region.  MVRPC performs various regional planning activities, including air quality, water quality, transportation, land use, research and GIS.  As the designated Metropolitan Planning Organization (MPO), MVRPC is responsible for transportation planning in Greene, Miami and Montgomery Counties and parts of northern Warren County. MVRPC's areawide water quality planning designation encompasses five (5) counties: Darke, Preble plus the three MPO counties.
To learn more about the "Street Smart" campaign, contact MVRPC at 937.223.6323 or go to mvrpc.org/street-smart.