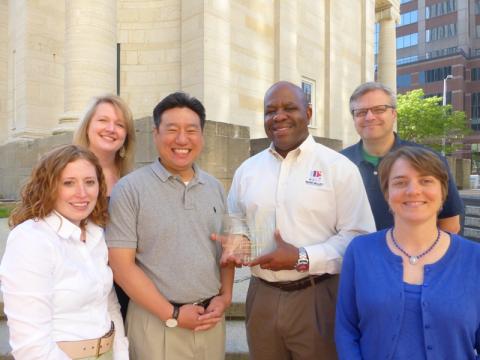 Dayton, OH – The Miami Valley Regional Planning Commission (MVRPC) received the Achievement Award for a "Medium Metro" area from the National Association of Regional Councils (NARC) for the Going Places Initiative, a comprehensive regional land use planning initiative for the Dayton/Miami Valley Region.  NARC Achievement Awards recognize excellence in programs and services of regional councils and Metropolitan Planning Organizations (MPOs) across the country.
MVRPC's Executive Director, Brian O. Martin, AICP, attended NARC's 50th Annual Conference this week in Salt Lake City, Utah, and accepted the prestigious award.  "The Going Places Initiative was developed because of MVRPC's Board of Directors' desire to address the Region's disconnect between population growth and land development. Population growth was almost stagnant, but there's been an 83% increase in developed land over the last 3 decades. We developed a strategic plan and a shared land use vision to enable regional cooperation and enhance residents' quality of life and economic vitality," explained Martin.
The shared land use vision – known as the Concentrated Development Vision – focused on the following:
Build upon the Region's many assets;
Maximize the use of existing infrastructure;
Preserve agricultural land and open space; and
Encourage community connection and cooperation.
"Winning this national award really speaks volumes about the Going Places Initiative. Other medium size regions can, and have, looked at the Going Places initiative when creating their own regional land use plans. The "Tools not Rules" approach, that was included in the initiative, was a game changer for our Region. MVRPC's staff and technology can better support local planners and decision makers using any or all of the 11 adaptable tools that get results," continued Martin.
Established in 1964, the Miami Valley Regional Planning Commission promotes collaboration among communities, stakeholders, and residents to advance regional priorities.  MVRPC is a forum and resource where the Board of Directors identifies priorities and develops public policy and collaborative strategies to improve quality of life throughout the Miami Valley Region.  MVRPC performs various regional planning activities, including air quality, water quality, transportation, land use, research and GIS.  As the designated Metropolitan Planning Organization (MPO), MVRPC is responsible for transportation planning in Greene, Miami and Montgomery Counties and parts of northern Warren County. MVRPC's areawide water quality planning designation encompasses five (5) counties: Darke, Preble plus the three MPO counties.
For more information about the Going Place Initiative, go to http://www.mvrpc.org/regional-planning/going-places-initiative.
For more information on the NARC award, go to https://narc.maps.arcgis.com/apps/MapSeries/index.html?appid=28f6c215602...
For information about the Miami Valley Regional Planning Commission, please contact Executive Director, Brian O. Martin, AICP, at bmartin@mvrpc.org or at 937.223.6323.
###
Photo attached – (L to R):  Kathryn Youra Polk, Lynn Zuch, Martin Kim, Brian O. Martin, Tom Harner, and Julie Black.