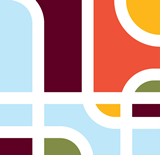 MVRPC is pleased to release the findings from the 2019 Regional GIS Needs Assessment, conducted as part of its Regional GIS program. The Summary of the 2019 Assessment is available at https://www.mvrpc.org/data-mapping/geographic-information-systems-gis-mvrpc.
This past October, MVRPC conducted its second Regional GIS Needs Assessment to identify how GIS is used in the region and to better understand various needs that exist at the local and regional level.  An update to the previous 2015 Assessment, this second assessment asked many of the same questions in order to track change over time, as well as adding a few additional questions to account for technological changes over the last 4 years.
Using this information, MVRPC intends to continue to identify opportunities for addressing regional needs through partnerships, and to provide enhanced GIS services.
MVRPC's Regional GIS program plays a leadership role in promoting the use of GIS in the Miami Valley Region, in partnership with GIS professionals in the Region.