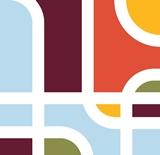 MVRPC's PLAN4Health – Miami Valley Initiative was launched in the spring of 2021 to explore how planning can impact health outcomes. The PLAN4Health - Miami Valley Initiative is a multi-year effort with a focus on projects and programs intended to:
Promote and advocate for "Health in All Plans and Policies"
Convene and engage partners to improve conditions that are known to be key determinants of health
Advance planning efforts aimed at creating conditions for healthy people and communities
The
Health Environment Assessment
provides information and tells the story of the Miami Valley's current conditions using interactive maps and infographics. Analysis results on twenty-three (23) indicators that are known to be key determinants of health, grouped into five (5) domains, are presented at the neighborhood level. Further, composite maps and findings from each domain and a Social Determinants of Health Index composite map that covers all five (5) domains, are also presented to provide a comprehensive look at baseline information.
Established in 1964, the Miami Valley Regional Planning Commission promotes collaboration among communities, stakeholders, and residents to advance regional priorities. MVRPC is a forum and resource where the Board of Directors identifies priorities and develops public policy and collaborative strategies to improve quality of life throughout the Miami Valley Region. MVRPC performs planning and research functions for our Region that ensure livable and equitable communities; clean air and water; robust roadway, transit, and active transportation options; and strategic community plans that chart the course for member communities and partners. As the designated Metropolitan Planning Organization (MPO), MVRPC is responsible for transportation planning in Greene, Miami and Montgomery Counties and parts of northern Warren County. MVRPC's areawide water quality planning designation encompasses five (5) counties: Darke, Preble plus the three MPO counties.
For additional information regarding PLAN4Health - Miami Valley Initiative and the Health Environment Assessment, contact Martin Kim, MVRPC's Director of Community and Regional Planning, at (937) 223-6323 or
mkim@mvrpc.org
.