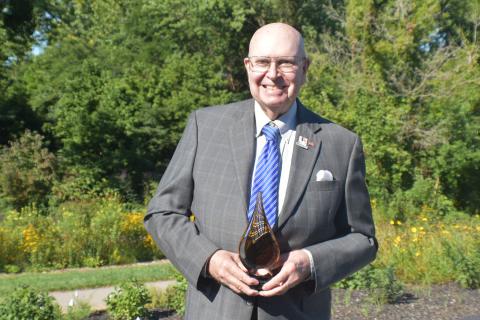 Lt. Col. USAF Woodrow W. Stroud. Jr.,Retired, Chairperson of the Greene County Transit Board, is the 2020 recipient of the Miami Valley Regional Planning Commission's (MVRPC's) Arthur D. Haddad Regional Steward Award. 
MVRPC Chairperson and Miami Township (Greene County) Trustee, Chris Mucher, along with MVRPC Executive Director, Brian O. Martin, AICP, presented the award to Stroud during a small and socially distanced ceremony on August 19, 2020.
Enjoy the video of the award ceremony and continue reading below to learn more.
The coveted Arthur D. Haddad Regional Steward Award recognizes:
Someone with an innovative spirit to solving regional challenges;
Someone who builds broad support toward a shared regional vision; and
Someone who is a regional steward promoting economic, social and environmental progress in the Miami Valley.
Some of the reasons Stroud was selected as this year's award recipient include:
Stroud has served on the MVRPC Board and Executive Committee for nearly a decade, since March 2011. He is relied upon by many for providing wise counsel and unending support for MVRPC's role in the Region.
In early 2020, Stroud was named Chairperson of the Long-Term Disaster Recovery Leadership Board. This small, influential group of Regional leaders from both the private and public sectors will guide the strategy, advocacy and fundraising leadership in response to the 2019 Memorial Day tornadoes.
Stroud has been a member of the Greene County Transit Board since August 2008 and has served in the role of Chairperson since November 2011. The Greene County Transit Board (Greene CATS), is a county public transit system providing safe, reliable, and accessible public transportation for the residents of Greene County, with special attention to those who are transportation disadvantaged in coordination with agencies, organizations, businesses, and local governments. Greene CATS.is an important economic factor in Greene County which gives employers access to employees who would otherwise be unable to get to their jobs. 
Stroud has a long a distinguished career serving our country and our Region.
Stroud is a Lieutenant Colonel, United States Air Force/Air National Guard, Retired, and last served as commander, 178 Consolidated Aircraft Maintenance Squadron in Springfield, Ohio.
Stroud is retired President of Merchants Capital Management Corporation, an investment management subsidiary of National City Corporation, and retired Senior Vice President of National City, Indiana.
Stroud is a founding member, trustee and past president of the Miami Valley Military Affairs Association (MVMAA).
Stroud has served on the Board of Directors of the Dayton Area Chamber of Commerce, and as a member of the DACC Military and Federal Government Affairs Committee (MFGAC) and its successor the Military Advocacy Committee.
Stroud served for more than a decade as the President of the Board, Greater Dayton Jaycees Housing, Inc. where he participated in the building of Jaycee Towers, a 210-unit rent subsidized housing project for seniors. 
In 1998, Stroud was appointed by the Department of Defense to Ohio Employer Support of the Guard and Reserve (ESGR). 
Stroud has been a member of the Dayton VA Medical Center Veterans Advisory Council (VAC) since its formation in April 2008. In 2008, Woody served on the Greater Dayton Area Hospital Association (GDAHA) VA Medical Center Task Force formed at the request of Congressman Mike Turner to assist the Dayton VA and was a member of the 2013 Dayton VA Strategic Planning focus group.

He is a 1963 graduate of Miami University (BA, political science) and has been a member of the Miami University College of Arts and Science Alumni Advisory Board since 2002.