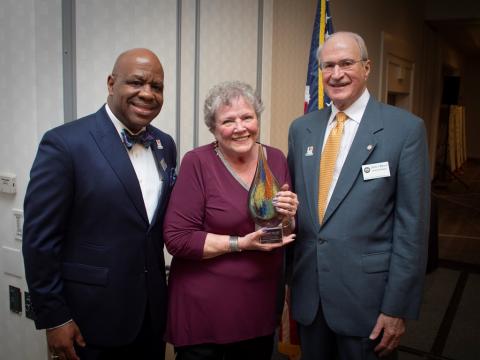 Dayton, OH – Longtime public servant and City of Riverside Council Member, Sara S. Lommatzsch, was selected as the recipient of the Miami Valley Regional Planning Commission's (MVRPC's) Arthur D. Haddad Regional Steward Award.  Lommatzsch received the award on Thursday, April 18, 2019, at MVRPC's Annual Spring Dinner which was held at the Marriott ~ University of Dayton.
MVRPC Chairperson and City of Centerville Council Member, John J. Beals, along with MVRPC Executive Director, Brian O. Martin, AICP, presided over the event which was attended by over 370 invited guests from across the Region.
The coveted award recognizes:
Someone with an innovative spirit to solving regional challenges;
Someone who builds broad support toward a shared regional vision; and
Someone who is a regional steward promoting economic, social and environmental progress in the Miami Valley.
Martin noted, "Sara has been a longtime advocate for the Miami Valley Region as a whole. She's always looked at the larger picture and focused on improving the quality of life for all residents. Additionally, her on-going efforts have been part of MVRPC's success in securing the funding for the US 35 reconstruction projects in both Greene and Montgomery counties: Superstreet at Factory and Orchard, Montgomery County widening in Riverside and Dayton, and the US 35 at Woodman Drive interchange."
Beals stated, "When I think of someone who has always worked collaboratively to build broad support toward a shared regional vision, I think of Sara. She's always been a team player."
Some of the reasons Lommatzsch was selected as this year's award recipient include:
She was a member of the Riverside Charter Commission and worked as part of an elected group to establish the original Charter for what was Montgomery County's newest city in 1994;
She is an experienced member of the Montgomery County Rural Planning Commission and was appointed to the first Riverside Planning Commission to spearhead the development of the city's comprehensive plan for the physical development of the new city, including the land use plan and zoning regulations;
She has served on the Riverside City Council for 16 years and has also served as Deputy Mayor;
She's been on the Riverside Area Chamber of Commerce Executive Board for 15 years working to foster business growth and business support programs for community businesses; and
She has served on the Miami Valley Regional Planning Commission's Board of Directors faithfully since 2014 and is now a member of the Executive Committee.
Established in 1964, the Miami Valley Regional Planning Commission promotes collaboration among communities, stakeholders, and residents to advance regional priorities.  MVRPC is a forum and resource where the Board of Directors identifies priorities, develops public policy and collaborative strategies to improve quality of life throughout the Miami Valley Region.  MVRPC performs various regional planning activities, including air quality, water quality, transportation, land use, research and GIS.  As the designated Metropolitan Planning Organization (MPO), MVRPC is responsible for transportation planning in Greene, Miami and Montgomery Counties and parts of northern Warren County. MVRPC's areawide water quality planning designation encompasses five (5) counties: Darke, Preble plus the three MPO counties. The Annual Spring Dinner is a way to express our continued thanks to the elected officials who devote countless hours to the betterment and unity of the Miami Valley Region.
The event was sponsored by: AECOM, American Structurepoint, Arcadis, Barge Design Group, Burgess & Niple, Crawford, Murphy & Tilly, CT Consultants, DH Productions, Dayton Daily News / Dayton.com, Dayton Dragons, Dayton Metro Library, DLZ Ohio, Inc., Greater Dayton Regional Transit Authority, HDR, Inc., Heidelberg Distributing Company / Allied Wine, iHeart Media - Dayton, Jacobs, Inc., JMT, Kettering Health Network, Key-Ads, Inc., LJB, Inc., Mannik & Smith Group, Marriott ~ University of Dayton, Miami Valley Lighting, MS Consultants, MurphyEpson, ProForma Vision Marketing, Progressive Printers, Inc., Commute with Enterprise, Spectrum Reach, TEC, Inc., University of Dayton, Vectren, and Woolpert. 
For more information about the Miami Valley Regional Planning Commission, visit www.mvrpc.org, or call 937.223.6323.
Photo (L to R):  Brian O. Martin, Sara Lommatzsch, John J. Beals