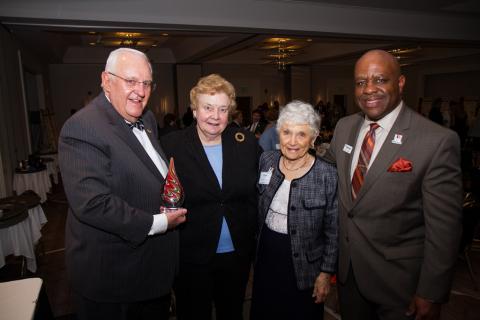 Dayton, OH – Understanding the importance of collaboration, while moving forward on a regional level, was just one of the reasons why longtime Miamisburg mayor, Richard Church, was chosen as the recipient of the Miami Valley Regional Planning Commission's (MVRPC's) Regional Steward Award.  Mayor Church received the award on Wednesday, April 19, 2017, at MVRPC's Annual Spring Dinner that was held at the Marriott ~ University of Dayton.
MVRPC's Chairperson and Beavercreek Township Trustee, Carol Graff, along with MVRPC's Executive Director, Brian O. Martin, presided over the event, which was attended by 300 guests from across the Region.
The coveted Regional Steward Award recognizes:
Someone with an innovative spirit to solving regional challenges;
Someone who builds broad support toward a shared regional vision; and
Someone who is a regional steward promoting economic, social and environmental progress in the Miami Valley.
Chairperson Graff explained, "Mayor Church is known for his sensibility and his logical approach to resolving issues. This award recognizes an outstanding public servant who has shown he or she can make tough decisions while keeping in mind the good of the entire Region."
He is currently in his seventh term as mayor of Miamisburg, serving as such since 1992. He's also a lifelong resident of that city.
Mayor Church serves on numerous boards including: Miami Valley Emergency Management Committee (Chair); Miamisburg Municipal Trust Fund Committee (Chair); Montgomery County Dispatch Policy Committee (Chair); Montgomery County Solid Waste District (Chair); Mound Development Corporation; Downtown Miamisburg, Inc.; Sinclair Community College Appalachian Outreach Community Advisory Board; Miamisburg Historical Society;  and Mayors and Managers Association of Montgomery-Greene Counties (Past President).
He has served proudly on the Miami Valley Regional Planning Commission's Board of Directors since 2004. He also served on MVRPC's Executive Committee from 2004 through 2011. 
Brian O. Martin, MVRPC's Executive Director, noted that "Mayor Church is a real asset to the Miami Valley.  He brings a wealth of experience and knowledge to the table.  His understanding of various regional issues makes him irreplaceable."
Established in 1964, the Miami Valley Regional Planning Commission promotes collaboration among communities, stakeholders, and residents to advance regional priorities.  MVRPC is a forum and resource where the Board of Directors identifies priorities, develops public policy and collaborative strategies to improve quality of life throughout the Miami Valley Region.  MVRPC performs various regional planning activities, including air quality, water quality, transportation, land use, research and GIS.  As the designated Metropolitan Planning Organization (MPO), MVRPC is responsible for transportation planning in Greene, Miami and Montgomery Counties and parts of northern Warren County. MVRPC's areawide water quality planning designation encompasses five (5) counties: Darke, Preble plus the three MPO counties. The Annual Spring Dinner is a way to express continued thanks to the elected officials who devote countless hours to the betterment and unity of the Miami Valley Region.
The event was sponsored by: BWSC, Burgess & Niple, CH2M, Commuter Advertising, Crawford, Murphy & Tilly, CT Consultants, Dayton City Paper, Dayton Daily News/Dayton.com, Dayton Dragons, Dayton Metro Library, DLZ Ohio, Inc., Greater Dayton Regional Transit Authority, Heidelberg Distributing Company / Allied Wine, Kettering Health Network, Key Ads, Inc., LJB, Inc., Marriott ~ University of Dayton, Miami Valley Lighting, ProForma Vision Marketing, Progressive Printers, Inc., Rideshare by Enterprise, TEC, TranSystems, University of Dayton, Upward Brand Interactions, Woolpert, and Vectren.
For more information about the Miami Valley Regional Planning Commission, visit www.mvrpc.org, or call 937.223.6323.
(Attached photo:  L to R:  Miamisburg Mayor, Richard Church; wife, Judi Church; MVRPC's Chairperson, Carol Graff; MVRPC's Executive Director, Brian O. Martin, AICP)