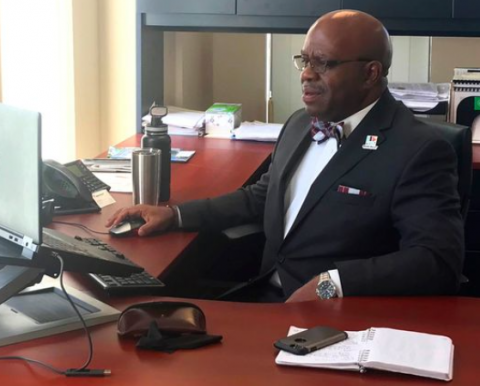 Dayton, OH – On June 16, 2021, the National Association of Regional Councils recognized Miami Valley Regional Planning Commission Executive Director Brian O. Martin, AICP with the Walter Scheiber Leadership Award.
The Walter Scheiber Leadership Award recognizes significant impacts a regional council executive director has made at the local, state, and national levels.
"MVRPC Executive Director Brian O. Martin is an ideal candidate to receive The Walter Scheiber Leadership Award in recognition of his efforts to establish a regional consensus on the need for equity, access to opportunity and social justice," wrote MVRPC Board of Directors Chairperson Chris Mucher in the award nomination. "Mr. Martin is well known in the NARC community, having dedicated decades of his career to the leadership of regional councils. He is a tireless advocate for the importance of planning for transportation, land-use and environmental matters at the Regional level. In recent years, Mr. Martin has also championed the need for disparities in opportunity, equity and social justice to be addressed through the same collaborative, regional approach."
Under Mr. Martin's leadership, MVRPC has taken bold steps to advance equity and to make a commitment to diversity a normal part of how the agency conducts all business. This began long before the events of 2020 which amplified interest in how systemic racism pervades all aspects of our communities.
During the virtual award presentation, Brian O. Martin stated, "Tough issues do not get resolved by themselves. When MVRPC completed the Equity Regional Profile with the OSU Kirwan Institute in 2017, our Region's disparities in Equity and Access to Opportunity were glaring." Mr. Martin went on to say, "It was quite clear this is a regional matter because over time, people were moving from the central communities to newer, outer communities. Our maps show this migration and the lasting effects that restrict access to opportunity to such things like health, education, transportation, housing and employment." Mr. Martin thanked his wife, their children and family, the MVRPC Board of Directors, MVRPC's community partners, and co-workers for their hard work, support and encouragement.
Established in 1964, the Miami Valley Regional Planning Commission promotes collaboration among communities, stakeholders, and residents to advance regional priorities. MVRPC is a forum and resource where the Board of Directors identifies priorities and develops public policy and collaborative strategies to improve quality of life throughout the Miami Valley Region. MVRPC performs various regional planning activities, including air quality, water quality, transportation, land use, research and GIS. As the designated Metropolitan Planning Organization (MPO), MVRPC is responsible for transportation planning in Greene, Miami and Montgomery Counties and parts of northern Warren County. MVRPC's areawide water quality planning designation encompasses five (5) counties: Darke, Preble plus the three MPO counties.
For additional information, contact Stacy Schweikhart, MVRPC's Director of Strategy and Engagement, at (937) 223-6323 or sschweikhart@mvrpc.org.
###