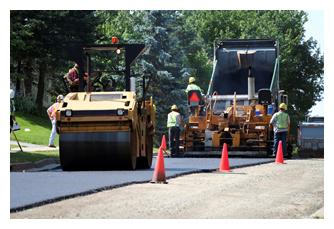 MVRPC Launches www.miamivalleyroads.org
Our Miami Valley roadways are essential corridors that link our neighborhoods, workplaces and places we go to enjoy the bountiful amenities in our Region. The Miami Valley Regional Planning Commission recently launched a new resource to help make getting wherever you are going a little bit easier.
The new www.miamivalleyroads.org features all of the latest updates on major highway construction projects, bridge replacements and road construction detours. It also provides user-friendly access to route planning tools, ridesharing resources and other ideas to reduce congestion and prevent air pollution.
MVRPC Hosts Southwest Ohio GIS Users Group (SWOGIS)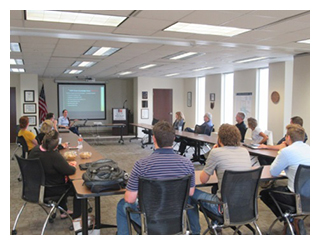 MVRPC hosted the August SWOGIS meeting with eighteen GIS professionals from around the Region. The upcoming changes to the Geographic Information Systems Professional (GISP) Certification program were the main topic of this meeting. Three of our own staff members currently hold GISP certifications.
At MVRPC, GIS is one of the key components of our Planning Support System and provides a vital operating function for regional planning activities. MVRPC partners with SWOGIS members on many regional GIS initiatives, including our GIS training program. 
For more information about MVRPC's GIS program, visit our website at https://www.mvrpc.org/data-mapping/geographic-information-systems-gis-mvrpc. Visit https://www.swogis.org/ to become a member of the Southwest Ohio GIS Users Group (SWOGIS).
MVRPC to Lead Regional Long-Term Recovery Initiative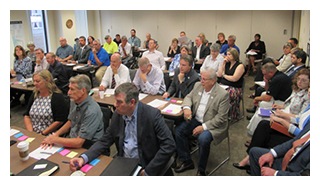 The Miami Valley Regional Planning Commission will serve as the designated leader of the Long- Term Community Disaster Recovery Network, helping the counties, cities, townships, and villages affected by the devastating Memorial Day tornadoes create a plan for recovery. While the primary focus was on disaster response within local jurisdictions, Emergency Management teams at the county and state-level coordinated these efforts. Now, our region is ready to move toward long-term recovery for all impacted communities and coordinated, cooperative strategic planning for resiliency is critical.
"Estimates are that the Long- Term Community Disaster Recovery efforts may take a decade or more to accomplish," said MVRPC Executive Director, Brian O. Martin. "MVRPC will lead this important work for as long as it may take to bring our region back stronger than ever before."
As part of the National Disaster Recovery Framework model, the Long-Term Community Disaster Recovery Network led by MVRPC will focus efforts on planning and policy in the following areas: Housing Planning & Policy; Community Planning and Capacity Building; Economic Recovery; Natural and Cultural Resources Recovery; Health & Social Services Recovery; and Infrastructure Systems Recovery. This will result in resiliency and preparedness for future disasters. MVRPC recently convened leaders from affected jurisdictions across multiple counties, most of whom are already MVRPC members.
Attendees each shared the major disaster recovery challenges in their communities, and Martin shared with attendees what they can expect from MVRPC's leadership of the long-term disaster recovery effort. "We will to work with them to lead a strategic planning process to assess the allocation of disaster relief funds from multiple federal agencies to meet needs throughout the region," said Martin. "We will provide technical assistance in federal fund applications, in project administration, compliance and evaluation."
MVRPC Presents at TRAC

Our Region's priority projects were presented in August to the Transportation Review Advisory Council (TRAC), a 9 member appointed body that makes decisions on major capital funding through the Ohio Department of Transportation (ODOT).  Following Director Marchbank's warm welcome and remembrances of growing up in Dayton and visiting Hamilton, our very own Executive Director kicked off the presentations.  Mr. Martin presented overview updates on the US 40 widening and safety project, which has been advancing through the project development process by the Montgomery County Transportation Improvement District (TID).  Mr. Steve Stanley presented on the very latest information about the project including its updated construction cost of $12M and its funding model for local match.
Mr. Martin then presented on the Valley Trebein at US 35 interchange project which will remove the at grade crossing in Greene County. The project continues to collect needed right of way and ODOT District 8 is leading the design of the project. Greene County Engineer Stephanie Goff and Beavercreek Township Administrator Alex Zaharieff provided development updates on the project including the extension of utilities to the airport which is adjacent to the proposed interchange project. Our presentations were very good and represented our Miami Valley Region well. The TRAC members seemed to be listening closely and intently.  Now, we wait to hopefully learn about their commitments around the end of the year. Thanks to everyone for our preparations and to the TRAC for its consideration of the Miami Valley's priority projects.
Grants & Funding Resources
On a monthly basis, MVRPC highlights several funding opportunities on our website that could benefit communities in the Region. We include a description, contact information and program links. We have also listed other valuable resources for finding funding opportunities.
See more at: mvrpc.org/grant-and-funding-opportunities
This month we are featuring information on:
State Farm Good Neighbor Citizenship Company Grants– Deadline: October 31, 2019.
Wetlands Conservation Act U.S. Small Grant– Deadline: October 17, 2019.
If you need assistance with your grant pursuit or further research, please contact Kathryn Youra Polk, Senior Planner, at 937.223.6323 or kyoura.polk@mvrpc.org.
Upcoming MVRPC Meetings 
9/11  1:00 p.m.  Great Miami River Watershed Network Seminar on Nutrients in Water, DABR, 1515 S. Main St., Dayton, Ohio
9/13  10:00 a.m.  MVRPC Regional Bikeways Committee, City of Beavercreek,1368 Research Park Dr., Dayton, Ohio
9/19  8:00 a.m.  Project Evaluation System Update Committee Meeting, MVRPC, 10 N. Ludlow St., Ste. 700, Dayton, Ohio
9/19  9:30 a.m.  MVRPC Technical Advisory Committee, MVRPC, 10 N. Ludlow St., Ste. 700, Dayton, Ohio
9/14  10:30 a.m.  Ohio's Framework for Connected/Automated Vehicles, MVRPC, 10 N. Ludlow St., Ste. 700, Dayton, Ohio
9/24  4:00 p.m.  Greater Miami Valley Region Transportation Coordinated Plan & FTA 5310 FY2019 Program of Projects, MVRPC, 10 N. Ludlow St., Ste. 700, Dayton., Ohio
9/26  4:00 p.m.  Greater Miami Valley Region Transportation Coordinated Plan & FTA 5310 FY2019 Program of Projects, City of Piqua Municipal Government Complex, 201 W. Water Street, Piqua, Ohio
9/26  9:30 a.m.  Regional Disaster Recovery Coordination Meeting, MVRPC, 10 N. Ludlow St., Ste. 700, Dayton, Ohio
Download the September Executive Director's Update PDF