Home to the Nation's Largest Paved Trail Network
The Miami Valley is home to over 340 miles of connected paved trails, the largest paved trail network in the country. With so many miles of trails, you can travel to just about everywhere. The trails are also a great way to commute to work or school. If you are interested in commuting by bike, MVRPC's Rideshare Program can help. Visit MiamiValleyRideshare.org and register for the program to view potential routes and match with other users to form a bikepool. Watch this short video to learn more about leaving your car at home and exploring your community by bike.
MVRPC'S Annual Spring Dinner 2019 Honors Riverside Council Member, Sara S. Lommatzsch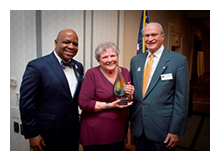 MVRPC's 55th anniversary was celebrated in style during the Annual Spring Dinner on Thursday, April 18, 2019, at the Marriott ~ University of Dayton. MVRPC Chairperson and City of Centerville Council Member, John J. Beals, along with MVRPC Executive Director, Brian O. Martin, AICP, presided over the event. The dinner is held annually as a way to say "Thank You" to local elected officials who serve this Region. This year's celebration was the largest ever with 350 attendees and 34 sponsors. 
During the dinner, longtime public servant and City of Riverside Council Member, Sara S. Lommatzsch, was selected as the recipient of the Arthur D. Haddad Regional Steward Award.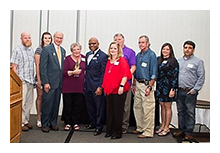 The coveted award recognizes:
•  Someone with an innovative spirit to solving regional challenges;
•  Someone who builds broad support toward a shared regional vision; and
•  Someone who is a regional steward promoting economic, social and environmental progress in the Miami Valley.
Several Riverside council and staff members, plus seven of Sara's family members traveled in from out of state without her knowledge to attend the dinner. After she took the stage to accept the award, one of her sons who was standing near the side of the stage, declared "Hi Mom!"  She was completely surprised and thrilled that her family could join her for this momentous occasion.
Multifaceted, sax, flute and clarinet musician, Edde Osborne, entertained the crowd and at the end of the evening, a drawing for three Ohio-themed gift baskets was held. Photographs from the event are located on MVRPC's Facebook page and at www.mvrpc.org/annual-dinner.
Longtime MVRPC Staff Member, Laura Loges, to Retire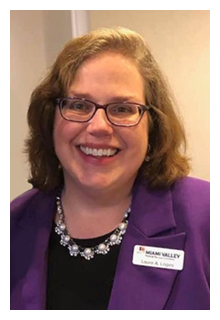 In March, 1991, before the World Wide Web went live to the world, Laura Loges was hired as MVRPC's RIDESHARE Coordinator. As a 1982 graduate of the University of Dayton with a degree in Communications, Public Relations & Promotions, she had worked for the U.S. Census Bureau, the City of Dayton, and E.F. McDonald/Carlson Marketing Group in a variety of roles. Her background proved very useful as she guided the expansion of the RIDESHARE Program. In 1994, in response to the Clean Air Act Amendments, she developed an "Ozone Action Program" which eventually became MVRPC's Air Quality Awareness Program. It featured a grade school-based outreach program with the "SMOGINATOR" as its mascot, a gas cap testing program, and the issuance of alerts to inform residents when air pollution levels were high. The effort won the Governor's Award for Outstanding Achievement in Pollution Prevention Education, Awareness and Outreach, plus a HERMES award from the American Advertising Federation (Dayton Chapter) for companion radio commercials. Over the years, her role expanded to include streamlining the agency's public participation policy, serving as the public information officer (PIO), planning and coordinating the Annual Spring Dinner, overseeing the development of the Annual Report, negotiating sponsorships and donation for various programs, and developing communications pieces for MVRPC as a whole. In 2017, a series of 3 TV commercials highlighting several member jurisdictions and MVRPC's role in the Region received a bronze national TELLY Award. Laura is looking forward to retiring on May 31, 2019 and plans to volunteer with a local animal shelter and for her 2020 presidential candidate where she will use the World Wide Web as the primary communication method every day.
The 2020 Census is Less Than a Year Away and Preparations are Underway at MVRPC
MVRPC, as a U.S. Census Affiliate organization, hosted a Participant Statistical Areas Program (PSAP) workshop on April 18, 2019. The workshop provided an opportunity to review proposed changes to census tracts and to solicit input from local stakeholders on various census geographies for Darke, Greene, Miami, Montgomery, and Preble counties. MVRPC will compile information and submit recommendations to the Census Bureau in May, per their guidelines. The resulting geographies will be used for data tabulation and reporting purposes in the 2020 Census and future American Community Surveys.
To ensure a complete and accurate count across the Miami Valley, MVRPC is assisting our members in forming or participating in a Complete Count Committee (CCC). A CCC is a volunteer committee made of local community leaders whose aim is to increase awareness and motivate residents to participate in the Census by bringing trusted voices to the process. These committees are in the process of forming, or have been formed, in Greene, Miami, and Montgomery Counties. They are intended to be customizable to reflect the area's unique make up and needs. As such, each of the Region's CCCs has a different composition and approach to increase Census awareness and to target hard-to-count populations.
For additional information, contact Elizabeth Whitaker, Senior Planner, at ewhitaker@mvrpc.org or visit our 2020 Census Resource page at: www.mvrpc.org/data-mapping/census-data-center/2020-census-resource-page.
Grants & Funding Resources
On a monthly basis, MVRPC is highlighting several funding opportunities on our website that could benefit communities in the Region. We include a description, contact information and program links. We have also listed other valuable resources for finding funding opportunities.
See more at: mvrpc.org/grant-and-funding-opportunities
This month we are featuring information on:
Municipal Bridge Program– Deadline: August 15, 2019.
Ohio Environmental Education Fund – Deadline: July 9, 2019.
If you need assistance with your grant pursuit or further research, please contact Martin Kim, Director of Regional Planning, at 937.223.6323 or mkim@mvrpc.org.
Upcoming MVRPC Meetings
5/16/19  MVRPC Technical Advisory Committee, MVRPC Office, 10 N. Ludlow Street, Suite 700, Dayton
Download the May 2019 Executive Director's Update PDF