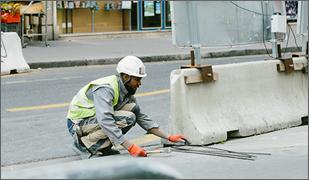 Over $26.6 million in Federal Transportation Funds Approved for New Projects
MVRPC's recent solicitation for new transportation projects just wrapped up on March 7th with the Board of Director's approval of over $26.6 million in Federal transportation funds.
This process began in the fall of 2018 with an update to MVRPC's Surface Transportation Program (STP), Congestion Mitigation Air Quality program (CMAQ) and Transportation Alternatives (TA) Policies and Procedures and the Board's authorization for staff to solicit for new projects.  By the deadline of October 10, 2018, forty-five applications seeking over $51 million in Federal STP, CMAQ and TA funding had been received.  Over the following months, MVRPC staff evaluated and ranked the applications based on the MVRPC Project Evaluation System and then held a meeting with all project sponsors in early January to discuss project scoring.  As a result of this meeting, consensus among the project sponsors was reached regarding the project scoring and staff determined that the following new projects could be funded:
14 STP projects totaling $18,353,059 in STP funds - mvrpc.org/sites/default/files/2018recommendedstpprojects.pdf
3 CMAQ projects totaling $6,991,378 in CMAQ funds* - mvrpc.org/sites/default/files/2018recommendedcmaqprojects.pdf
*The three CMAQ projects listed still require consideration and official approval of funding by the Statewide CMAQ Committee which is expected by the end of 2019.
4 TA projects totaling $1,298,315 in TA funds - mvrpc.org/sites/default/files/2018recommendedtaprojects.pdf
These lists of projects were then submitted to the MVRPC TAC in February and the Board adopted the lists in March.  Funding for all approved projects is expected to be available in SFY2024 and SFY2025.
Rolling Into Spring with Bike Month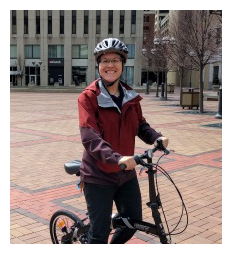 Bike Miami Valley staff can now take six new adjustable bikes across the Region when teaching an innovative on-street cycling course called "How We Roll."  Purchased with an MVRPC grant, the foldable bikes are extremely easy to transport. They also adjust to the size of the user for a more comfortable ride.  The convenience of these bikes help support the cycling program's curriculum of instructing participants how to be visible and predictable while riding, and following traffic laws. Course participants are in situations where they signal to other cyclists, interact with cars, trucks, and buses traveling at a variety of speeds. "The funding allows Bike Miami Valley to expand "How We Roll" to several counties. The purchase of the bikes, carrying cases, as well as storage, staff time, and marketing, was covered by the grant." stated Laura Estandia, Executive Director of Bike Miami Valley.  "We are grateful for the ongoing partnership we have with MVRPC."
Spring brings several opportunities to enjoy biking.  Here are just a few events: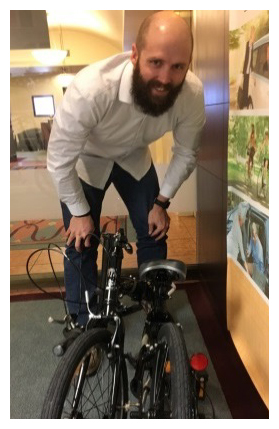 April 13 - Opening Day for Trails
April 28 - Bike to the Dragons - Fifth Third Field
May 8, 9, 10 - National Bike to School Day Events– Dayton Public Schools
May 10 - Miami Valley Cycling Summit http://cyclingsummit.com/ to register
May 17 - National Bike to Work Day Pancake Breakfast – RiverScape MetroPark
May 25 -Wegerzyn Bike Rodeo for Kids - Wegerzyn Gardens MetroPark
Greene County Engineer's Annual Dinner – Guest Speaker, ODOT Director, Dr. Jack Marchbanks
MVRPC staff attended the Greene County Engineer's Annual Dinner on March 12, 2019. During the dinner, Greene County Engineer, Bob Geyer, was recognized and congratulated on his upcoming retirement.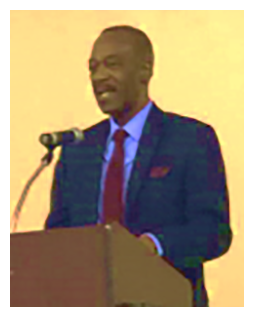 The attendees also heard from guest speaker, newly appointed Ohio Department of Transportation Director, Dr. Jack Marchbanks whose presentation focused on the motor fuel tax increase recommended by Governor DeWine. Director Marchbanks explained the proposal would raise an additional $1.2 billion a year for road and bridge projects statewide and give the state Ohio Department of Transportation authority to lower speed limits based on road conditions. Director Marchbanks emphasized why the increase is so critical for planned roadway projects throughout the Miami Valley Region.
Use of Solar Power Grows in the Miami Valley Region
On March 20, 2019 MVRPC partnered with the University of Dayton, the Ohio Environmental Council (OEC), and Green Energy Ohio (GEO) to host a very successful workshop: Growing Local Solar: Community-based Tools to Enable Solar Development in Ohio. Engaging presentations and panel discussions with policy, legal and business experts focused on a range of topics: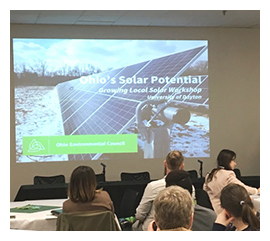 Community choice aggregation;
Solar project interconnection standards;
Land use including building codes and zoning considerations;
Neighborhood-based solar cooperatives;
Best practices for residential rooftop solar in historical districts and homeowners' associations;
Energy special improvement districts (eSIDs) and Property Assessed Clean Energy (PACE) financing;  
Community engagement best practices including how to address concerns over property values.  
Dayton's Mayor, Nan Whaley, addressed the workshop during the lunch to provide an overview of Dayton's sustainability outlook and plans.
The workshop concluded with a tour of UD's very new solar array on the front lawn of Daniel J. Curran Place (formerly the "River Campus"). Built using a "power purchase agreement," the size of the array provides about a tenth of Curran Place's power needs. Small electric motors continuously orient the panels toward the sun for greater photovoltaic production. The array also includes a section of panels intended for UD students' research projects. Soon native Ohio prairie plantings will be installed in the ground beneath the array to create pollinator habitat. This array, and its prominent position on UD's campus, sends a clear message about the University's ongoing sustainability priorities.
Air Quality Update
MVRPC staff recently met with representatives from the National Weather Service (NWS) in Wilmington, Ohio to discuss how to better notify the public when an Air Pollution Advisory is issued. Beginning this year, the NWS will include the air quality alert information on their website and messaging on the National Oceanic and Atmospheric Administration (NOAA) radio broadcast. The website and announcements will also include tips on air pollution reduction. An Air Pollution Advisory can happen at any time during the year. One is issued if air pollution (ground-level ozone or particle pollution) is forecasted to rise. They are issued the DAY BEFORE the increase in air pollution is expected to occur.
Grants & Funding Resources
On a monthly basis, MVRPC is highlighting several funding opportunities on our website that could benefit communities in the Region. We include a description, contact information and program links. We have also listed other valuable resources for finding funding opportunities.
See more at: mvrpc.org/grant-and-funding-opportunities
This month we are featuring information on:
NatureWorks Ohio Grant – Deadline: June 1, 2019.
Pipeline Safety Information Grants To Communities: Technical Assistance Grants (TAG) – Deadline: June 22, 2019.
 
If you need assistance with your grant pursuit or further research, please contact Martin Kim, Director of Regional Planning, at 937.223.6323 or mkim@mvrpc.org.
Upcoming MVRPC Meetings 
4/18/19  MVRPC Technical Advisory Committee, MVRPC Office, 10 N. Ludlow Street, Suite 700, Dayton
4/18/19  MVRPC 2020 Census Participant Statistical Areas Program (PSAP) Workshop, MVRPC Office, 10 N. Ludlow Street, Suite 700, Dayton, Ohio
Download the April 2019 Executive Director's Update PDF