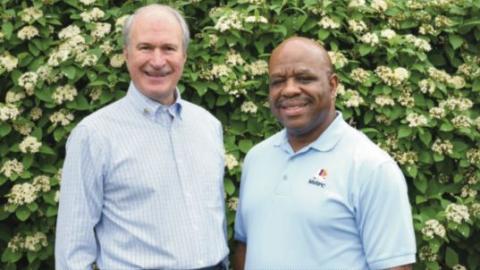 MVRPC 2018 Annual Report
MVRPC recently released it's 2018 Annual Report. The report is titled "Moving Forward, Together" which summarizes MVRPC's efforts and collaboration with Board members, community partners, federal and state organizations, and local businesses to address the needs of our Region. For the first time, the annual report is available as an online flipbook to view here https://www.mvrpc.org/annual-report-2018/flip.html
MVRPC Staff Lend a Hand to the Region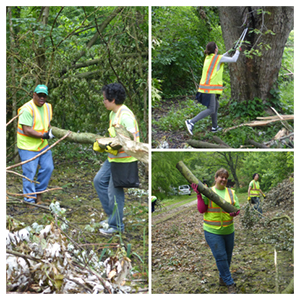 Memorial Day 2019 will be a day the Miami Valley Region will never forget. Just as  Memorial Day activities had come to a close and families returned to the comforts of their homes, severe weather wreaked havoc across the Region.
While the aftermath was devastating, the Miami Valley Region stood strong. The community came together supplying food, water and participating in multiple clean-up efforts.
The staff of MVRPC was quick to lend a hand. Through the organized efforts of Sinclair Community College, staff gathered with their water and gloves ready to help wherever needed. The organizers at Sinclair were overwhelmed and thankful to have such a large group come together to volunteer. MVRPC staff was assigned to Brookville to clean-up the debris left behind by an EF4 tornado.
Greater Regional Mobility Initiative
In January 2018, MVRPC launched the Greater Region Mobility Initiative (GRMI) through the financial support of the Ohio Department of Transportation.  The initiative was created to enhance transportation connections for those who are unable to drive or individuals who do not have access to personal transportation. 
To better serve the transportation needs of people living in the Greater Miami Valley Region, the GRMI has focused on two goals: 1) to develop a coordinated public transit human services transportation plan for the nine-county region and 2) to establish a strong and active regional coordination council.  Eighteen months into the project, a draft of the plan is complete and ready for public comment.  The draft plan identifies community transportation resources, compiles statistics of the target populations, identifies transportation needs and outlines strategies to address the needs.  The GRMI Council has held four quarterly meetings attended by 43 agencies from across the Region representing seniors, disabled, the general public, the medical community and low-income populations.
You are invited to attend the public participation meetings: Tuesday, July 9, 2019, 4:00 p.m. – 6:00 p.m. at the Dayton Metro Library and Thursday, July 11, 2019, 4:00 p.m. – 6:00 p.m. at the Shelby County Public Transit office.
The GRMI is well on its way to building a regional effort to coordinate transportation and positively impact the mobility of the people who call the Miami Valley Region their home.
The comment period ends on Thursday, July 18, 2019.  To learn more about GRMI and to view the draft coordination plan, visit, https://www.mvrpc.org/transportation/services-non-drivers/greater-regional-mobility-initiative
53rd Annual NARC Conference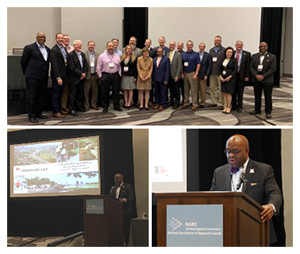 Recently MVRPC Executive Director, Brian O. Martin, and Board of Directors First Vice-Chair Chris Mucher, attended the National Association of Regional Councils (NARC) 53rd Annual Conference and Exhibition in Omaha, Nebraska. The conference featured speakers from across the country on a variety of topics affecting communities. During the conference Mr. Martin presented on "Changing Demographics, Changing Times" to a large group of attendees.
MVRPC is a member of NARC and Mr. Martin serves on the Executive Directors Council (EDC). For over 50 years, NARC has served as a national voice for a regional approach to meeting local challenges. NARC members work collaboratively in their communities – large and small, urban and rural – to address the needs of their citizens and promote a regional approach to planning for the future.
MVRPC publishes its first Equity Newsletter
MVRPC published its first Equity Newsletter on Wednesday, June 12, 2019. This inaugural issue highlights our actitivites during the year 2018 and features information and resources on the topic of transportation equity. The Equity Newsletter is a biannual publication to provide information on the latest activities with the Miami Valley Equity Initiative and share notable information around the nation. You can view the first June issue and also subscribe for your next newsletter at this link - https://mailchi.mp/fac2ba0656e8/mvrpc-equity-initiative-newsletter-june-edition.
Miami Township Lyons Road Bridge Ribbon Cutting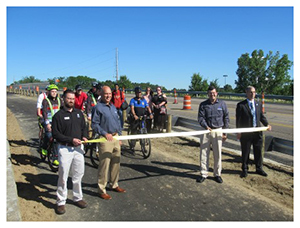 Paul Arnold, MVRPC's Short Range Programs Manager, attended the dedication of the Lyons Road bridge pathway in Miami Township on June 14, 2019. This project is the first collaboration between MVRPC and Miami Township since they rejoined in 2015. MVRPC directed over $1 million of its Federal allocation to this project. That funding, combined with local dollars, allowed for the completion of this multi-use pedestrian and cyclist facility. This safe and convenient access is an asset to the area, and we congratulate our partners at Miami Township on its completion.
Grants & Funding Resources
On a monthly basis, MVRPC is highlighting several funding opportunities on our website that could benefit communities in the Region. We include a description, contact information and program links. We have also listed other valuable resources for finding funding opportunities.
See more at: mvrpc.org/grant-and-funding-opportunities
This month we are featuring information on:
The Kettering Fund – Deadline  (request summary): July 31, 2019.
Ohio History Fund – Deadline: September 4, 2019
If you need assistance with your grant pursuit or further research, please contact Kathryn Youra Polk, Senior Planner, at 937.223.6323 or kyoura.polk@mvrpc.org.
Upcoming MVRPC Meetings 
7/9/19    4:00 p.m.   MVRPC's GRMI Public Participation Meeting, Dayton Metro Library, 215 E. Third St.
7/10/19   9:00 a.m.   Ohio EPA Water Quality Monitoring Strategy Webinar, MVRPC Office, 10 N. Ludlow St.
7/11/19   1:00 p.m.   Miami Valley EV Policy Workshop and Ride & Drive, University of Dayton, Daniel J. Curran Place – Meyer Room, 1700 S. Patterson Blvd.
7/11/19   4:00 p.m.   MVRPC's GRMI Public Participation Meeting, Shelby County Public Transit, 413 S. VanDemark Rd., Sidney
7/16/19   10:00 a.m.  Greater Region Mobility Initiative (GRMI) Coordination Council, Montgomery County, Business Solutions Center, 1435 Cincinnati Street, Suite 300
7/18/19   9:30 a.m.    MVRPC Technical Advisory Committee (TAC), MVRPC Office, 10 N. Ludlow St.
Download the July 2019 Executive Director's Update