Greater Regional Mobility Initiative
In January, 2018 The Miami Valley Regional Planning Commission (MVRPC) was chosen to lead a pilot program named the Greater Regional Mobility Initiative (GRMI). The Ohio Department of Transportation (ODOT) chose MVRPC to lead this project due to its strong history of collaboration and expertise. The GRMI will help create transportation connections for those with disabilities and for older adults in nine counties:
| | |
| --- | --- |
| Champaign | Miami |
| Clark | Montgomery |
| Darke | Preble |
| Greene | Shelby |
| Logan |   |

This project has two goals. The first goal is for all Ohio communities to develop a coordinated plan in order to prepare for regionalization. The second goal is to pilot the regionalized coordinated transportation planning process in two Ohio regions; one region that is rural and one that is a combination of urban and rural. 
Review the Final DRAFT Greater Region Transportation Coordination Plan for Champaign, Clark, Darke, Greene, Logan, Miami, Montgomery, Preble, and Shelby Counties.
The public is encouraged to attend one of the following meetings to learn about the demographics, transportation needs and gaps, goals and strategies for improving transportation, and mobility options throughout the Greater Region. Review and comment on the FINAL DRAFT plan in person at the meetings or use our online Comment Form. Written comments will be accepted through Thursday, October 3, 2019.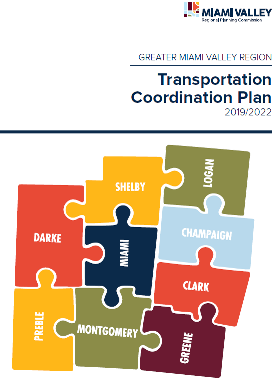 The drop-in open house style meetings will be your opportunity to review the Draft Plan. Facilities are accessible. Free parking is available at City of Piqua Municipal Government Complex. Parking validation for The Arts Garage will be distributed at the Dayton meeting location.
Tuesday, September 24, 2019
4:00 p.m. – 6:00 p.m.
MVRPC Offices
10 N Ludlow St., Dayton, OH 45402
Thursday, September 26, 2019
4:00 p.m. – 6:00 p.m.
City of Piqua Municipal Government Complex
201 W. Water Street, Piqua, Ohio 45356
Need a ride to a meeting? Contact your local transit provider or search options at www.miamivalleyridefinder.org or www.cssmv.org/programs-services/mobility-management/.
Questions? Call Kim Lahman at (937) 531-6531, or email klahman@mvrpc.org.
Greater Regional Mobility Initiative Pilot Project
The two-year pilot project is designed to facilitate the transition from focusing on individual counties to a greater region wide project. In the coming years, regionalization will transform the coordinated plan process across the state.
This work on the GRMI project would not be possible without the collaboration of the mobility managers. To learn more about the work our mobility managers do and the areas they cover, click on the following links:
Champaign, Darke, Logan, Miami, Preble, and Shelby Counties: RideLink
Logan County: Logan County Rides
Miami, Montgomery, and Greene Counties: Miami Valley Ride Finder
Preble County: Preble County Transit
Clark County: Link Coming Soon
Rural Counties
  

Small Urban Counties
Large Urban Counties
Greater Region Mobility Initiative (GRMI) Council
The next Greater Region Mobility Initiative (GRMI) Council meeting will be held on October 21, 2019 from 10:00 AM – 12:00 PM.
Location:  Montgomery County Business Solutions Center
1435 Cincinnati St. #300
Dayton, OH 45417
Free parking is available on site.
If you know of an agency that may benefit from participating, feel free to extend this invitation on our behalf.
Pre-registrations is requested. Registration closes 4 pm on October 16, 2019.