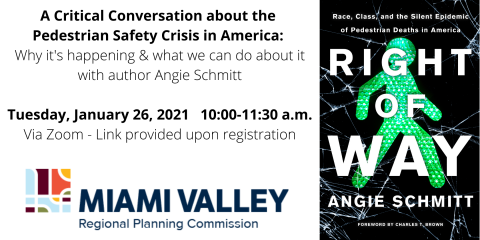 A CRITICAL CONVERSATION ABOUT THE PEDESTRIAN SAFETY CRISIS IN AMERICA
Read the latest Executive Director's Update
IN THIS EDITION OF THE EXECUTIVE DIRECTOR'S UPDATE:
Calendar Year 2020 MVRPC Accomplishments
LATEST MVRPC NEWS
MVRPC Celebrates 2020 International GIS Day
MaimiValleyRoads.org
SPOTLIGHT ON MEMBER RESOURCES
Grants to Make Walking & Biking to School Safter in Your Community
Community Recycling and Litter Prevention Grants
Changes to ODOT Highway Safety Improvement Program
Ohio's Transportation Future: ODOT and Partners Prepare for Mobility Needs of 2045
Upcoming Meetings and Events 
Most meetings are being cancelled or shifted to teleconference. Please check the agency calendar on mvrpc.org. All upcoming TAC and Board meetings will be on Zoom.
Jan. 21st 9:30 a.m. Technical Advisory Committee - via Teleconference

Jan. 26th 10:00 a.m. Critical Conversation about Pedestrian Safety - Register here

Jan. 26th 2:30 p.m. Regional Equity Initiative - via Teleconference

Feb. 3rd 3:00 p.m. Officer's Call - via Teleconference

Feb. 4th 8:30 a.m. Executive Committee Meeting - via Teleconference

Feb. 4th 9:00 a.m. Board of Directors Meeting - via Teleconference