Public Participation Policy
MVRPC has long been committed to meaningful and proactive public involvement. Throughout the years many methods have been refined and successfully employed to attain valuable public input, resulting in commendations from the Ohio Department of Transportation (ODOT) and the Federal Highway Administration (FHWA). This updated Public Participation Policy (updated June 2020) represents a combination of MVRPC's past successful methods and the latest techniques proven by other Metropolitan Planning Organizations to be successful input devices.
MVRPC's Public Participation Policy is designed to secure active and representative involvement from all segments of the community in planning and decision-making about regional projects,
investments, policies and other planning issues. In accordance with federal law MPOs are responsible for facilitating interaction with stakeholders and the public to provide information and to facilitate dialogue, record input received and incorporate the thoughts and concerns of the public into the development of major MPO planning documents and in various aspects of the MPO planning process.
MVRPC makes three core commitments throughout the Public Participation Policy:
MVRPC will provide an effective public forum in a manner appropriate for the project, through which consensus can be reached between public officials and citizens for regional planning issues. This will be achieved by discussing issues, negotiating conflicts, and reaching general agreement on important regional decisions.
MVRPC will provide adequate notice of public participation and planning activities to provide the opportunity for interested parties to comment on proposals that affect the general population and to actively contribute to the policy and decision-making process.
MVRPC will endeavor to educate the public on the processes and issues involved in transportation planning and other programs in such a manner that it is easy to understand and provide feedback.
In order to achieve the purpose and commitments outlined above, MVRPC will emphasize the
following essential components of the public participation process:
Enable early and continuing participation by the public in the development of policies, plans and programs.
Provide timely access to information about public participation opportunities and key decisions throughout the planning process.
Involve a broad cross-section of key stakeholders, including affected individuals and public agencies.
Foster transparency by proactively providing full public access to complete and easily readable information in sufficient time that all may consider the information and provide feedback.
Seek innovative ways to inform and engage the public and use the appropriate combination of techniques to obtain the most meaningful input possible.
Make special efforts to secure participation and input from traditionally underserved, low income, minority, and other underrepresented populations as identified in the community impact assessment section of the Long Range Transportation Plan.
Periodically review the Public Participation Policy so that adjustments can be made to ensure that maximum public participation is achieved.
Coordinate with Ohio statewide participation plans.
Constant evolution of public outreach methods based on new technology, new partners and best practices.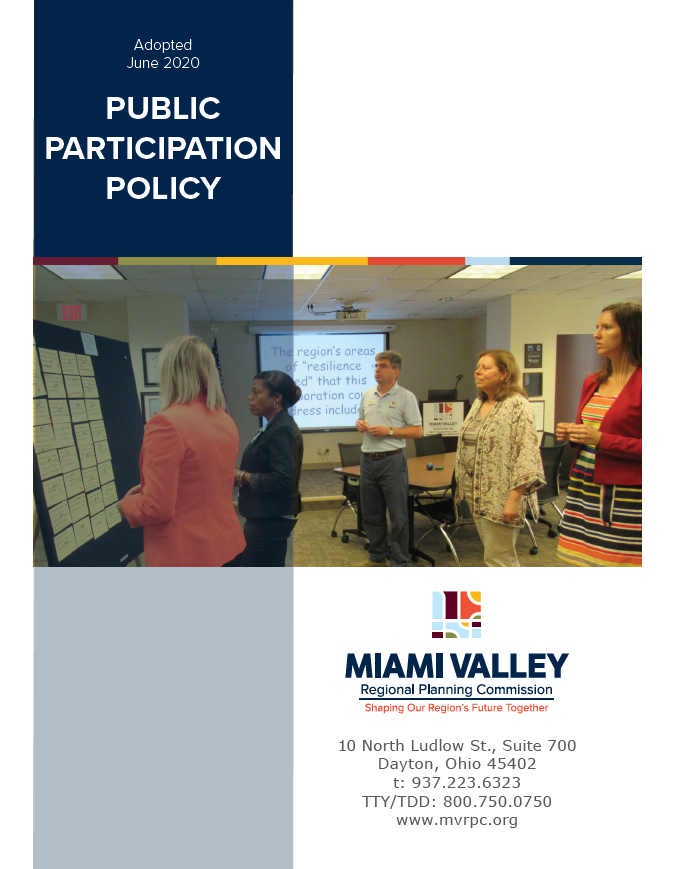 For more information, please contact Laura Henry, Director of Marketing and Public Outreach at Lhenry@mvrpc.org.