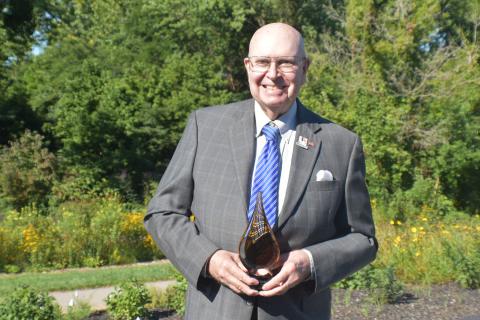 2020 Arthur D. Haddad Regional Steward Award
Lt. Col. USAF Woodrow W. Stroud. Jr.,Retired, Chairperson of the Greene County Transit Board, is the 2020 recipient of the Miami Valley Regional Planning Commission's (MVRPC's) Arthur D. Haddad Regional Steward Award. 
MVRPC Chairperson and Miami Township (Greene County) Trustee, Chris Mucher, along with MVRPC Executive Director, Brian O. Martin, AICP, presented the award to Stroud during a small and socially distanced ceremony on August 19, 2020.
IN THIS EDITION OF THE EXECUTIVE DIRECTOR'S UPDATE:
Latest MVRPC News
MVRPC Annual Report
2020 Census Update
Spotlight on Member Resources
Geo-Spark D-Hive Initiative
Grants and Funding Resources
Upcoming Meetings and Events 
Most meetings are being cancelled or shifted to teleconference. Please check the agency calendar on mvrpc.org. All upcoming TAC and Board meetings will be on Zoom.
MVRPC Technical Advisory Committee via Teleconference
MVRPC Executive Committee via Teleconference
MVRPC Board of Directors Meeting via Teleconference