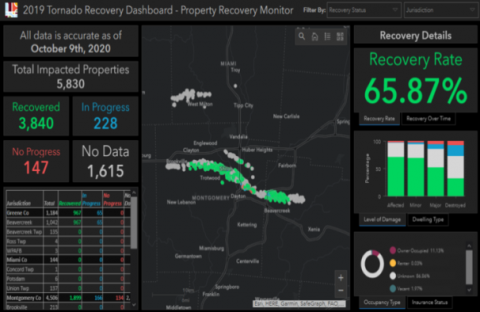 MVRPC is the designated leader of Disaster Recovery efforts in the Miami Valley, coordinating assistance for all of the member communities impacted by the Memorial Day 2019 tornadoes. An important part of our role is to collect and visualize data to help tell the story of our Region's recovery. MVRPC recently worked with the leaders of impacted communities to construct two dashboards, the Individual Recovery Monitor and the Property Recovery Monitor.
IN THIS EDITION OF THE EXECUTIVE DIRECTOR'S UPDATE:
Latest MVRPC News
Disaster Recovery Dashboards
2020 Census
MVRPC Sustainability Roundtable
MVRPC Job Opportunities
Spotlight on Member Resources
Upcoming Meetings and Events 
Most meetings are being cancelled or shifted to teleconference. Please check the agency calendar on mvrpc.org. All upcoming TAC and Board meetings will be on Zoom.
MVRPC Technical Advisory Committee via Teleconference
MVRPC Executive Committee via Teleconference
MVRPC Board of Directors Meeting via Teleconference