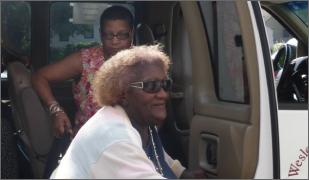 If you were unable to attend the MVRPC public participation meeting held on November 14, 2018, regarding the Proposed Program of Projects being considered for Federal Transit Administration funding through the Enhanced Mobility for Seniors and Individuals with Disabilities Program (Section 5310), there is still time to review the proposed projects and leave your comments at www.mvrpc.org/specialized-transportation-program. Comments will be accepted until November 26, 2018.
MVRPC Presents, Attends Brookville's Arlington Rd. Bridge Ribbon Cutting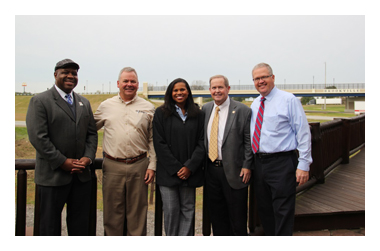 It was a joy to support Brookville through the process of developing its first MVRPC federally funded project by awarding a TA grant of $323,600 for decorative lighting to improve pedestrian safety. The Arlington Road Bridge Completion Ceremony was held on Thursday, October 25, 2018. With great fanfare that included ODOT District 7 leadership, designers, and consultants, Brookville's Mayor David Seagraves and City Manager Gary Burkholder, council members and staff hosted the event at the former Applewood Log Homes model in Brookville. The photo above shows the speakers for the program: Brian O. Martin, Randy Chevalley, ODOT District 7; Jackie Nicol, ODOT District 7 Construction Engineer; David Seagraves, Mayor of Brookville; and Gary Burkholder, Brookville City Manager. All expressed their appreciation for this beautiful bridge. The new Arlington Road Bridge over I-70 in the City of Brookville is shown behind the program speakers.
Grants & Funding Resources
On a monthly basis, MVRPC is highlighting several funding opportunities on our website that could benefit communities in the Region. We include a description, contact information and program links to available funding. We have also listed other valuable resources for finding funding opportunities. See more at: mvrpc.org/grant-and-funding-opportunities.
This month we are featuring information on:
• Farm to School Grant Program– Deadline: December 4, 2018.
• Walmart Community Grants Program– Deadline: December 31, 2018.
If you need assistance with your grant pursuit or further research, please contact Martin Kim, Director of Regional Planning, at 937.223.6323 or mkim@mvrpc.org. 
MVRPC Promotes Equity and Supports our Partners in the Region and Beyond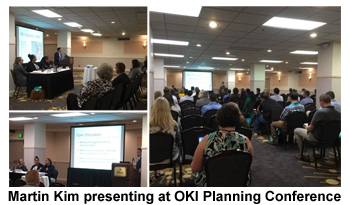 MVRPC continued its efforts to increase engagement in equity in our Region and beyond. Nationally MVRPC's Executive Director led a panel discussion on equity at the National Association of Regional Councils Executive Directors Conference in Cleveland. At the Ohio-Kentucky-Indiana Regional Planning Conference in Cincinnati, staff led a panel discussion on planners' role in promoting equity.
Locally, staff featured the Equity Profile during a data walk at the "Closing the Equity Gap" summit hosted by Sinclair Community College.  The agency also sponsored two local events including the NAACP's 67th Freedom Fund Banquet (10/26) and the National Conference for Community and Justice of Greater Dayton's (NCCJ) 41st Annual Friendship Dinner (10/29). We also presented the findings of the Equity Profile at Wright State University's urban planning class and Parity Inc.'s Black Leadership Academy. During the NAACP banquet, MVRPC's Executive Director was presented with a Silver Life Membership. A special "Thank You" to our board members and staff who attended these outstanding events: Chris Mucher, Debborah Wallace, Woody Stroud, Becky Benná, and Tony Klepacz along with MVRPC staff, Martin Kim, Kathryn Youra Polk, Teresa Wise, and Brian O. Martin.
Upcoming MVRPC Meetings
11/07/18  4:00 p.m.  Public Participation Meeting, Review Proposed 2018 Federally Funded Transportation Projects, MVRPC, 10 N. Ludlow St. Ste. 700, Dayton
11/14/18   8:30 a.m.  ARCGIS Online Basics Training Session, 10 N. Ludlow St. Ste. 700, Dayton
11/14/18   1:00 p.m.  ARCGIS Day Map Gallery, 10 N. Ludlow St. Ste. 700, Dayton
11/14/18   4:00 p.m.  Public Participation meeting, Section 5310 Specialized Transportation for Seniors & Individuals with Disabilities, Goodwill Easter Seals MV, Eichelberger Conference Center, 660 S. Main St. Dayton
11/15/18   9:30 a.m.   Technical Advisory Committee, MVRPC, 10 N. Ludlow St. Ste. 700, Dayton
11/27/18   9:00 a.m.  HSTC Council Meeting, Goodwill Easter Seals MV, Eichelberger Conference Center, 660 S. Main St. Dayton
12/06/18   8:30 a.m.  Executive Committee: Dayton Realtors, 1515 S. Main St., Dayton
12/06/18   9:00 a.m.  Board of Directors: Dayton Realtors, 1515 S. Main St., Dayton
Download the November 2018 Executive Director's Update PDF