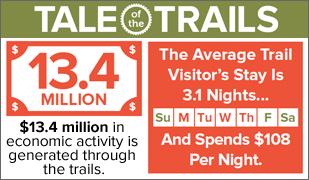 2017 Miami Valley Trail User Survey Report results released as an updated infographic titled Tale of the Trails.
In coordination with multiple trail-managing agencies across the Region, MVRPC has conducted a trail user survey every four years since 2009. Results from the 2017 survey are outlined in the infographic titled Tale of the Trails. Notable findings include an increase in the economic impact of the trails. More people are buying hard and soft goods related to their trail use. In addition, trail users, who visit from out of town, are staying an average of 3.1 nights, a slight increase from the 2013 survey results. With each iteration, the survey effort has evolved to include more communities, expanded questions, and new technologies. These changes reflect the increased reach and connectivity of the trails, as well as the growing partnership and collaboration of the many agencies that manage parts of the system. The Miami Valley Region boasts the Nation's Largest Paved Trail Network, offering many benefits to the people enjoying them. To view the complete infographic, visit mvrpc.org/transportation/bikeways-pedestrians/tale-trails.
MVRPC Regional Profile Series
Launched in the summer of 2016, the Regional Profile series provide information on important regional aspects including infrastructure, environment, economy, and social characteristics. MVRPC has published eight individual regional profiles to date, and all are available at mvrpc.org/regional-profiles.
The topics range from our Region's transportation system to workforce to equity. Each profile shares insights on where the Miami Valley Region stands on a given subject. Data and information are provided through a fun, user-friendly, and dynamic web-based infographic suitable for both computer and mobile devices. Interactive web maps are also available to present detailed data for different parts of the Region.


An outline of each profile:
Diversity Profile – The Miami Valley Region is becoming more diverse and it is important to understand how we are changing. This profile looks at our Region's diversity by population, race, ethnicity, age, religion, foreign-born population, birth rates, and migration. The profile presents an analysis of diversity at the regional and sub-regional level, including historical trends from 1980 to 2010, and projections for 2040.
Recreational Open Space Profile – Our Region has high-quality, recreational open spaces that positively impact our health, environment, and quality of life. This profile examines different types of recreational open space including environmentally-protected areas, parks, and natural environment recreation areas throughout the Region.
Vacancy Profile – Vacancy has been a concern for many communities in the Miami Valley, especially since the Great Recession. While the overall vacancy rate has improved, we have not yet fully recovered, and the results have been uneven across our Region. This profile summarizes analysis and mapping of vacancy at both the regional and sub-regional level with a focus on trends, timelines, and residential and business vacancy patterns.
Transportation Profile – The Miami Valley Region has an extensive transportation network. Understanding this system provides insight into our Region's levels of mobility, accessibility, and connectivity. This profile examines transportation modes and patterns including roadways, transit networks, bike trails, freight, commuting, and safety in Greene, Miami, Montgomery, and northern Warren counties.
Business & Industry Profile – Our Region's economy is comprised of businesses and jobs of diverse industry sectors. Influenced largely by the national economy, the Region has experienced both dynamic industry sector growth and decline over the last 12 years. This profile looks at the components of regional economic activity between 2004 and 2016, with a special focus on the top sectors of the Region: government, health care, and manufacturing.
Equity Profile– This profile provides insights on the issue of equity in the Miami Valley Region. It examines equity in terms of places, people and their access to opportunity. The profile presents an analysis of equity at the regional and sub-regional levels, including historic trends from 1980 to 2010, and a comprehensive look at equity for 2014.
Housing Profile – The Miami Valley Region provides a wide range of affordable housing options. This profile looks at housing by household composition, home ownership, vacancy rates, housing type, development trends, construction costs, building permit trends, and values and sale prices. The profile presents an analysis of housing at the regional and sub-regional level, including historical trends from 1980 to 2010.
Workforce Profile – The Miami Valley Region's workforce is made up of people with diverse occupations. Influenced by the state and national economy, the Region has experienced dynamic occupational growth and decline over the last 12 years. This profile looks at our Region's workforce, and the occupations of our workforce, between 2004 and 2016.
Meet your newest MVRPC staff member: Alexandra Growel - Transit Coordination Planner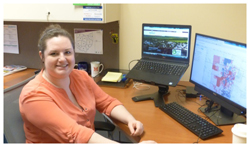 Being a Regional Planning/GIS Intern at MVRPC was such a rewarding experience for Ms. Alexandra Growel that when the Transit Coordination Planner position with MVRPC was posted, she applied immediately. As an Ohio native, she wanted to stay in her home state. "Alex," as her friends call her, attended Saint Joseph Central Catholic High School in Fremont, Ohio, and received her bachelor's (psychology), master's (environmental science), and GIS graduate certification from Miami University in Oxford, Ohio. Alex is responsible for overseeing the development of the Human Services Transportation Coordination Plan and the Greater Region Mobility Initiative both of which will outline how each of the nine counties are addressing their elderly and disabled resident's transit needs and help identify unmet needs so they can share resources. Alex was interested in the position because it will require her to draw from both her degrees and certification. Meeting with community members, local organizations, and transit users, and addressing their needs and concerns will be at the forefront. In her free time, animal-loving Alex likes to play with her two dogs and three cats. She also likes drawing, painting, crafts, hiking, biking, reading, and metal detecting.
Grants & Funding Resources
On a monthly basis, MVRPC highlights new funding opportunities on our website at mvrpc.org/grant-and-funding-opportunities.  These grant and funding opportunities were found through the Grantfinder software.  A description, contact information and program links are included on these new sources. In addition, the website includes other valuable resources for your funding pursuits.  This month we are featuring information on:
Ohio Emergency Medical Services (EMS) Grant – Deadline: April 1, 2018.
Ohio Highway Safety Improvement Program – Deadline: April 30, 2018.
If you need assistance with your grant pursuit or further research, please contact Martin Kim, Director of Regional Planning, at 937.223.6323 or mkim@mvrpc.org.
Upcoming MVRPC Meetings:
3/15/18   9:30 a.m.      Technical Advisory Committee – MVRPC - 10 N. Ludlow St., Dayton, OH
3/21/18   9:00 a.m.      Sustainability Roundtable: Textile Recycling - MVRPC - 10 N. Ludlow St., Dayton, OH
4/05/18   8:30 a.m.      Executive Committee - 9:00 a.m. | Board of Directors - 1515 S. Main St., Dayton OH
March 2018 Executive Director's Update available for download.