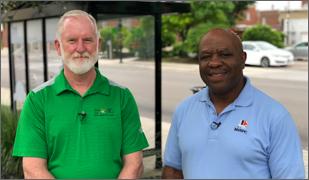 MVRPC and RTA are dedicated to improving transportation throughout the Region. 
A strong transportation system is vital to growing our local economy. Watch the video below to learn more about how MVRPC and RTA collaborate to bring transportation solutions to Miami Valley residents.
Rotary Club of Dayton's Tour de Gem Charity Cycling Event Update
The inaugural Tour de Gem charity cycling event will be held September 2, 2018. Tour de Gem is limited to 501(c)3 organizations. This link will provide you access to the Form a Team section of the website, click here. All teams must be 501(c)3 organizations or corporate teams that will be riding for one of their nonprofit partners. The site will be promoted through social media and other marketing efforts after June 1. The goal is for riders to see the Charity team options and elect to ride and fundraise for one of your organizations. If you have any questions, please contact Mr. Gerry Chadwick, Chairperson, Tour de Gem Steering Committee at 937-260-8969.
2018 Gubernatorial Candidates Forum
The Ohio Association of Regional Councils (OARC) will host a regional planning discussion with the candidates for Governor in Columbus, Ohio on July 10, 2018 at the Hilton Columbus Downtown. The campaigns of Attorney General and candidate Mike DeWine and Rich Cordray have confirmed that they will attend. This is your opportunity to hear how each candidate views vital issues such as transportation, infrastructure, economic development, and job creation. For more information, you may visit the OARC website at http://regionalcouncils.org/events/240-2018-candidates-forum.
Outstanding Attendance Again During MVRPC GIS Training at Wright State University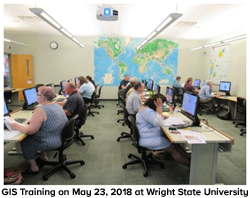 MVRPC hosted its fourth Geographic Information System (GIS) training on Wednesday, May 23, 2018 at Wright State University's GIS Lab. A total of 15 attendees from our member organizations attended the training and learned about ArcGIS Desktop software.
Intended for first time GIS users, MVRPC staff members served as instructors and each participant had a hands-on learning opportunity to interact, analyze, and create custom maps using the ArcGIS software. For more information about MVRPC's GIS program, visit our website at http://www.mvrpc.org/data-mapping/geographic-information-systems-gis-mvrpc or contact Tom Harner at tharner@mvrpc.org.
Website Addition: Miami Valley Sustainability Web page
The Miami Valley Regional Planning Commission has added a new Sustainability Resources page to our website. Covering a wide range of topics, the page seeks to capture the best current ideas for communities and Regions to become more sustainable. From pervious pavements to electric vehicle charging, you'll find it on the Sustainability Resources page. The page is designed to also facilitate dialogue. Under each topic is a link for communities and residents to submit additional resource links to share with the Region. We are particularly interested in your local projects and initiatives; so, please brag about what your community has been doing. MVRPC staff is committed to keeping the content on this page fresh and with your help, we'll all participate in the Regional Sustainability conversation.
Two Employees and Three Co-ops Begin their MVRPC Careers in May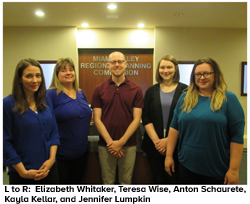 In what is quite rare for the agency, five new employees began working this month. Ms. Elizabeth Whitaker is a new, full-time Senior Planner in the Regional Planning department. Elizabeth is returning back to the Miami Valley from 13 years in Dallas, TX while working for North Central Texas Council of Governments and at a consulting firm in New Zealand. Ms. Teresa Wise is the new Assistant to the Executive Director. Teresa is from Xenia, Ohio and recently moved back to the area from Fort Myers, Florida. Both of these ladies have been working hard to learn more about MVRPC committees, member governments, regional data, planning documents, and projects.
Also, we have three college interns on staff for the summer. Jennifer Lumpkin (University of Dayton) is working with the Long Range Transportation Planning department; Kayla Kellar (University of Cincinnati) works with the Regional Planning department and Anton Schauerte (Ball State University) is working with the Sustainable Solutions and Transportation Alternatives department. The agency's office space is sufficiently full this summer.
Grants & Funding Resources
On a monthly basis, MVRPC highlights new funding opportunities on our website at https://www.mvrpc.org/grant-and-funding-opportunities. These grant and funding opportunities were found through the Grantfinder software. A description, contact information and program links are included on these new sources. In addition, the website includes other valuable resources for your funding pursuits. This month we are featuring information on:
Art Works – Deadline: July 12, 2018.
BUILD Transportation Discretionary Grant – Deadline: July 19, 2018.
If you need assistance with your grant pursuit or further research, please contact Martin Kim, Director of Regional Planning, at 937.223.6323 or mkim@mvrpc.org. 
Upcoming MVRPC Meetings: 
6/29/18            10:00 a.m.       Regional Bikeways Committee: Springboro City Building, 360 W. Central Ave.,
7/10/18            9:00 a.m.         OARC Candidates Forum: Hilton Downtown, 401 N. High St., Columbus, OH
7/19/18            9:30 a.m.         Technical Advisory Committee: MVRPC, 10 N. Ludlow St. Ste 700, Dayton, OH
8/02/18            8:30 a.m.         Executive Committee: Dayton Realtors, 1515 S. Main St., Dayton, OH
8/02/18            9:00 a.m.         Board of Directors: Dayton Realtors, 1515 S. Main St., Dayton, OH