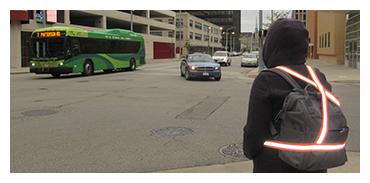 MVRPC Called Upon to Lead Our Region in New Ways
Last year brought unprecedented challenges for our Region, and in response, we came together in unprecedented ways. We proved that together, we are stronger than ever. In the midst of these challenges, MVRPC was called upon to lead the Region through several new efforts.
Pedestrian strikes remain on the rise, with several fatalities in our Region occurring in 2019.  These are preventable tragedies and MVRPC took action, distributing reflective vests and lights to enhance pedestrian safety in targeted high incident areas. Our annual safety campaign reinforced this effort with the placement of messages promoting actions everyone in the Region can take to improve safety for pedestrians, cyclists and motorists.
In the wake of the 2019 Memorial Day tornados, MVRPC was called upon to lead the Long-Term Community Disaster Recovery Network for our Region. This effort is focused on helping the counties, cities, townships and villages impacted by the devastating disaster create a regionally coordinated, cooperative strategic plan for resiliency. Each month, MVRPC convenes leaders from impacted communities across all three counties. The meetings connect attendees to critical resources, provide updates on the latest state and federal funding opportunities, and facilitate preparedness for future disasters.
Our Region's infrastructure is critical to our economic vibrancy and quality of life.  In early 2019, the Ohio legislature took a bill under consideration to raise the State's Motor Vehicle User Fee.  Because MVRPC knew that this increase in resources was essential for all of our member communities, we mobilized an effort to convey our Region's support for the bill.  The successful passage of the increase was a major victory and an important step in the right direction for the restoration of State funding to local governments.
As we enter the new decade, I want to share my gratitude for your continued support and participation with the Miami Valley Regional Planning Commission. I look forward to seeing what remarkable accomplishments await our Region in the decade ahead. If there are ways that the MVRPC can support your community or your organization, please contact me and we'll discuss how we can partner in the future.
2019 Miami Valley Planning and Zoning Workshop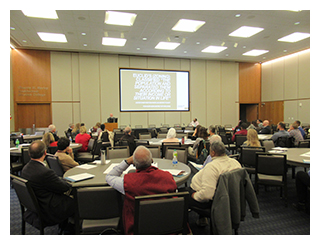 MVRPC staff members hosted two sessions at the 33rd Annual Miami Valley Planning and Zoning Workshop, held on Friday, December 6, 2019, at Sinclair Community College. 
Dr. Jason Reece from the Ohio State University and Mr. Dwight "Kip" Holley from the Kirwan Institute for the Study of Race and Ethnicity at the Ohio State University teamed up with MVRPC staff members for the "Promoting Equity and Inclusivity: All Ideas Welcome" session. 
The second "Sense and Census-ibility" session was an informative yet fun session involving 3 short plays by staff members focused around Census data and other MVRPC data resources.
MVRPC Supports Miami Township Comprehensive Plan Update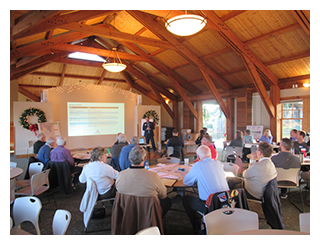 Miami Township recently launched a year-long Comprehensive Plan Update process. MVRPC is supporting the project by serving on the Plan Steering Committee, sharing expertise on the planning process and designing an interactive public workshop. In addition, on December 4, 2019, MVRPC staff teamed up with the Township staff to host two public workshops at Cox Arboretum MetroPark.  
MVRPC's interdisciplinary staff provides professional services to member organizations for their planning and policy development efforts.  For more information, please visit mvrpc.org/our-vision/planning-services.
MVRPC Updates the Online Traffic and Trail Count Viewer
MVRPC updated the online Traffic and Trail Count Viewer with vehicle counts for Year 2016 through 2019 and the online database now includes historical data between 2008 and 2019. MVRPC maintains a regional traffic count database with the assistance of participating jurisdictions and the Ohio Department of Transportation (ODOT).  The traffic count database is available in an interactive web-based map at mvrpc.org/traffic.  For more information, contact Aaron Lee at (937) 223-6323 or alee@mvrpc.org.
Grants & Funding Resources
On a monthly basis, MVRPC highlights several funding opportunities that could benefit our member communities. We include a description, contact information and program links. We have also listed other valuable resources for finding funding opportunities.
See more at mvrpc.org/grant-and-funding-opportunities .
This month we are featuring information on:    
         NEA Grants for Arts Projects– Deadline: February 13, 2020.
         Ohio Department of Transportation Safe Routes to School (SRTS) – Deadline: March 6, 2020.
If you need assistance with your grant pursuit or further research, please contact Kathryn Youra Polk, Senior Planner, at 937.223.6323 or kyoura.polk@mvrpc.org.  
Upcoming MVRPC Meetings
January 9, 2020 - 9:30 a.m. | Miami Valley Long Term Disaster Recovery Impacted Jurisdictions Meeting  | The Dayton Foundation 1401 S. Main St., Dayton, Ohio
January 16, 2020 - 9:30 a.m. | Technical Advisory Committee | MVRPC Office 10 North Ludlow St., Suite 700, Dayton, Ohio
January 16, 2020 - 4:00 p.m. - 6:00 p.m. | DRAFT TIP Public Participation Meeting | MVRPC Office 10 North Ludlow St., Suite 700, Dayton, Ohio
February 6, 2020 - 8:30 a.m. | MVRPC Executive Committee Meeting | Dayton Realtors 1515 S. Main St., Dayton, OH
February 6, 2020 - 9:00 a.m. | MVRPC Board of Directors Meeting | Dayton Realtors 1515 S. Main St., Dayton, OH
Download the January 2020 Executive Director's Update PDF