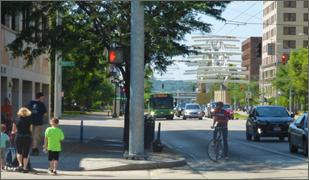 MVRPC seeks your input regarding an amendment to the 2040 Long Range Transportation Plan.
MVRPC invites you to attend the upcoming Public Participation Meeting to be held on Wednesday, August 15, 2018, regarding a Long Range Transportation Plan Amendment to re-establish ozone conformity. The public may attend the meeting anytime from 4:00 p.m. to 6:00 p.m. at the MVRPC office on Courthouse Square in downtown Dayton. If you are unable to attend the meeting, visit mvrpc.org/lrtp-amendments to review materials and leave your comments. Comments will be accepted until August 24, 2018. The full press release is available here.
MVRPC Touts Current Planning Studies During Ohio Transportation Planning Conference

On July 17 and 18, MVRPC staff attended the 2018 Ohio Transportation Planning Conference in Columbus. 
Attended by more than 400 transportation planners, the conference included over 25 educational sessions under the theme of "Quantum Leaps: Advances in Transportation."
MVRPC was very active during this conference showcasing our diverse expertise and extensive experience in transportation planning.  During four educational sessions, staff shared our innovative programs and projects with the audience, such as complete streets, road diets, human services transportation coordination, Greater Regional Mobility Initiative, bikeway and pedestrian planning, and transportation equity. 
The Ohio Transportation Planning Conference is held every other year and is sponsored by Ohio Department of Transportation, Ohio Association of Regional Councils and many others.
Grants & Funding Resources
On a monthly basis, MVRPC is highlighting several funding opportunities on our website that could benefit communities in the Region. We include a description, contact information and program links. We have also listed other valuable resources for finding funding opportunities. See more at: mvrpc.org/grant-and-funding-opportunities
This month we are featuring information on:
Laura Bush 21st Century Librarian Program– Deadline: September 17, 2018.
Continuum of Care Program Competition (CoC Program)– Deadline: September 18, 2018.
If you need assistance with your grant pursuit or further research, please contact Martin Kim, Director of Regional Planning, at 937.223.6323 or mkim@mvrpc.org. 
 
New and Seasoned MVRPC Board of Directors Delegates, Alternates, and TAC Orientations
Following numerous retirements among our committee representatives in 2017, we now have many new faces on the Board of Directors and Technical Advisory Committees.  There are 50 new delegates and alternates including 28 new representatives of TAC.  During Orientation, we will cover the agency's scope, role, and principle techniques for conducting the work.  We will be inviting TAC members first in time for their upcoming meeting on August 16, 2018 and then the Board of Directors prior to the upcoming September 6, 2018 meeting.  Please be on the lookout for an email from Teresa Wise twise@mvrpc.org, Assistant to the Executive Director.  Please respond quickly to Teresa with your date preferences.
Sponsor and Volunteer Support is Needed for September 2, 2018 Tour de Gem
The Tour de Gem, Dayton Cycling Classic is designed to highlight the Region for cyclists of all ages and abilities. First, I encourage communities, in which the ride route travels through, to support the ride with sponsorship dollars and volunteers.  As with any marathon or parade, the goal is to have local residents lining the route, engaged, and supporting the riders through our communities!  Through review of the map of routes, 17 MVRPC member jurisdictions will have riders and supporters in their communities.  Won't you please support this ride?  Ride communities include Beavercreek, Bellbrook, Carlisle, Centerville, Dayton, Fairborn, Farmersville, Franklin, Germantown, Kettering, Miamisburg, Moraine, Oakwood, Riverside, Springboro areas.
Second, volunteers are needed to help make this inaugural event a success. We need help providing support at the start and finish lines at Don Crawford Plaza at Fifth Third Field and everywhere in between. Volunteers must be at least 16 years of age. More specific and detailed information can be found here http://bit.ly/tourdegemcc. 
CarFit Event
Members of the MVRPC Board are invited to participate in a CarFit event following the September 6, 2018 board meeting.  MVRPC staff in coordination with AAA is hosting an educational program in which a team of trained technicians and/or health professionals work with each participant to ensure they "fit" their vehicle properly for maximum comfort and safety. A CarFit check takes approximately 20 minutes to complete.  To RSVP please email Kim Lahman at Klahman@mvrpc.org.
Upcoming MVRPC Meetings
8/09/18            8:00 a.m.         Health and Equity in Transportation, RTA, 4 S. Main Street, Dayton, OH
8/15/18            4:00 p.m.         LRTP Amendment, Public Involvement Mtg: MVRPC, 10 N. Ludlow St. Ste 700, Dayton, OH
8/16/18            9:30 a.m.         Technical Advisory Committee: MVRPC, 10 N. Ludlow St. Ste 700, Dayton, OH
9/06/18            8:30 a.m.         Executive Committee: Dayton Realtors, 1515 S. Main St., Dayton, OH
9/06/18            9:00 a.m.         Board of Directors: Dayton Realtors, 1515 S. Main St., Dayton, OH
Download the August 2018 Executive Director's Update PDF