MVRPC's RIDESHARE Program, a partner of Gohio Commute, offers a smarter way to find carpoolers, vanpoolers, and bike poolers.
Your daily commute can be costly but, what if you could split the cost and the responsibility with others? With Gohio Commute, you can! Gohio Commute is a FREE service available to anyone who lives, works, or attends college in Montgomery, Greene, Miami, Preble, Darke, and Clinton Counties. It provides information on commuting options, such as carpooling, vanpooling, and bikepooling, and matches applicants with others who have similar schedules and destinations. Those registered for the program may contact others via the online messaging tool to form a carpool, vanpool, or bikepool. Visit MiamiValleyRideshare.org or call 937.223.SAVE for more information.
AARP Livable and Age Friendly Communities
Through attending the February National Association of Regional Councils (NARC) legislative conference in Washington, I learned that AARP is heavily involved in livable and age friendly communities. Although I've used the term "livable communities" for most of my career, I did not know until the conference that AARP manages a community sign up and evaluation program so that the public may see how livable and age friendly communities are compared to others around the nation. Nearby Oxford, Ohio became the first AARP recognized Age Friendly Community in Ohio. Through working with the AARP staff in Southwest Ohio, we are hopeful that many communities in the Miami Valley will follow Oxford's lead and sign up. 
Action is at the centerpiece of AARP's program. While a certificate or recognition may be desirable, the program rewards communities that are planning and making age friendly improvements that make their communities more livable. To spur action, the organization has created a challenge grants program to fund low cost improvements. See: https://www.aarp.org/livable-communities/. In 2017, AARP awarded 88 grants. Outlined below is the 2018 grants' schedule:
March 21: Launch of the 2018 AARP Community Challenge 
May 16: Applications are due by 5 pm ET
June 25: Winning applicants will be notified via email by this date
November 5: All projects must be completed 
December 3: After Action Reports due
Grant applications must be submitted online by using the link:   https://app.reviewr.com/s1/site/aarp_communitychallenge
This is an exciting partnering opportunity for the region. We plan to bring Nicole Ware, AARP's Associate State Director, to an upcoming Board of Directors meeting. I encourage all member communities to further investigate this program and prepare questions for Ms. Ware about this program.
Grants & Funding Resources
On a monthly basis, MVRPC highlights new funding opportunities on our website at mvrpc.org/grant-and-funding-opportunities. These grant and funding opportunities were found through the Grantfinder software. A description, contact information and program links are included on these new sources. In addition, the website includes other valuable resources for your funding pursuits. This month we are featuring information on:
NatureWorks Ohio Grant – Deadline: May 1, 2018.
Community Connect Grant – Deadline: May 14, 2018.
If you need assistance with your grant pursuit or further research, please contact Martin Kim, Director of Regional Planning, at 937.223.6323 or mkim@mvrpc.org. 
MVRPC Staff Attends Great Miami Riverway Summit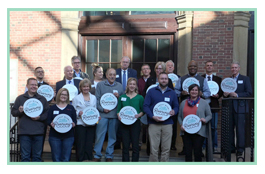 On behalf of MVRPC, Brian Martin and representatives from river nexus communities, received a new Great Miami Riverway medallion during the Great Miami Riverway Summit held on Friday, March 23, 2018, at the Dayton Art Institute. The Art Institute was a new location for this Summit and it was a great location for it, given the numerous river-facing enhancements being planned for the museum. Dayton Art Institute's Executive Director, Mr. Michael Roediger, informed the 180-plus attendees of the "historic staircase and hillside stabilization project" and the recent grant, to be awarded through the state capital budget, which will help fund the improvements.
Meet your MVRPC staff member: Tom Harner – GIS Coordinator
As someone who has always "loved maps," MVRPC's GIS Coordinator,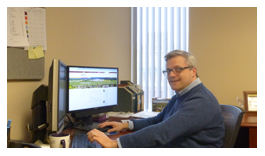 Tom Harner, chose Geography as his college major at Ohio University and never wavered. After graduating in the late 1980's, he "cut his teeth" with GIS at Woolpert, and then worked for the Clermont County Auditor's Office. He joined MVRPC in 1999 and his main responsibilities include fulfilling GIS data requests, maintaining the agency's GIS, and working with online maps and data. Tom enjoys using his GIS skills to help member jurisdictions especially those who have limited resources. His hobbies center on history and geography, since he enjoys playing board wargames and reading WWII operational histories. He's a fervent baseball fan (GO REDS!) and enjoys listening to both the Reds and Dragons on the radio. He and his wife, Karen, have three children, two dogs, and live in Kettering, Ohio. Tom and Karen will celebrate their 28th wedding anniversary this month. Tom noted that they were married in 1990, which was the last time the Cincinnati Reds won the World Series. He's a baseball fan indeed!
Upcoming MVRPC Meetings: 
4/19/18   9:30 a.m.   MVRPC Technical Advisory Committee: MVRPC, 10 N. Ludlow St., Dayton, OH
5/3/18   8:30 a.m.   MVRPC Executive Committee: Dayton Realtors, 1515 S. Main St., Dayton, OH
5/3/18   9:00 a.m.   MVRPC Board of Directors: Dayton Realtors, 1515 S. Main St., Dayton, OH
5/17/18   9:30 a.m.  MVRPC Technical Advisory Committee: MVRPC, 10 N. Ludlow St., Dayton, OH
5/23/18   8:30 a.m.   GIS Training Session: Wright State University, 295 Millet Hall, Fairborn, OH
Download the April 2018 Executive Director's Update PDF