Transit
MVRPC works with the transit agencies in the Miami Valley in several ways.  Greater Dayton RTA, Greene County Transit Board and Miami County Transit are members of the MVRPC Board of Directors, Technical Advisory Committee and Regional Transportation Coordination Council.  Transit projects are included in the MVRPC Long Range Transportation Plan (LRTP) and the short-range Transportation Improvement Plan (TIP). 
Links to websites of the three member transit agencies are below. 

RTA operates 29 routes throughout the greater Dayton region. We provide conveniently located transit centers and Park-n-Ride lots, as well as more than 50 token and pass sales outlets. All RTA buses include bike racks and are wheelchair accessible.
---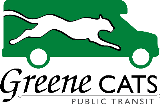 Greene CATS is a county public transit system operated by the Greene County Transit Board. They provide safe, reliable, and accessible public transportation with special attention to those who are transportation disadvantaged in coordination with agencies, organizations, businesses, and local governments. www.co.greene.oh.us/greenecats
---
The Miami County Board of Commissioners is committed to the concept of providing a quality, efficient, safe, and reliable transportation program for the citizens of our county. The program's flexible service hours, fare, and fees have been established to benefit individuals, groups and community service organizations with transportation to shopping, scheduled appointments, and entertainment.
In addition, MVRPC helps to administer an agreement among the transit agencies for dividing the Region's allocation of the FTA Urbanized Area Formula Program (5307).  MVRPC's role in this process is to apply an agreed-upon formula on an annual basis to the Region's 5307 allocation.  
GDRTA has also agreed to act as the purchasing agent for vehicles for the revised 5310 program, which primarily provides vehicles to non-profit agencies which provide transportation to seniors and individuals with disabilities.