HSTC Coordination Plan
Helping Transportation Disadvantaged Residents of the Miami Valley
In 2008, the Miami Valley Regional Planning Commission (MVRPC), in collaboration with the Greater Dayton Regional Transit Authority, Greene County Transit Board and Miami County Transit developed a Coordinated Public Transit – Human Services Transportation Plan.
MVRPC led the effort to develop a Regional Action Plan for improving transportation for people with disabilities, the elderly and people of low income. The plan is designed to both enhance transportation for these populations and to better coordinate the efforts of public and private transportation providers in Greene, Miami, Montgomery and northern Warren Counties.
Miami Valley Coordinated Public Transit-Human Services Transportation Plan 2019 Update

Review the FINAL DRAFT of the Miami Valley Coordinated Public Transit-Human Services Transportation Plan for Greene, Miami, Montgomery, and Northern Warren Counties
The public is encouraged to attend the meeting to learn about the needs assessment results, goals and strategies for improving transportation and mobility throughout the Region! Review and comment on the FINAL DRAFT plan in person at the meetings or use our Comment Form. Written comments will be accepted through Monday, June 10, 2019.
The drop-in open house style meetings will be your opportunity to review the FINAL DRAFT plan. Facilities are accessible with free on-site parking.
Thursday, May 30, 2019
12:00 p.m. to 2:00 p.m.
Dayton Metro Library, Northwest Branch
2410 Philadelphia Drive
Dayton, Ohio 45406
Need a ride to a meeting? Contact your local transit provider or search options at www.miamivalleyridefinder.org. Questions? Call Kim Lahman at (937) 223-6323, or klahman@mvrpc.org.
October 2018 Input Meetings
MVRPC and their consultant, RLS, hosted input meetings from October 2 - 5, 2018 for any interested parties to discuss transportation needs in Greene, Miami, Montgomery, and Northern Warren Counties. Meetings were open house format with brief presentations. Meeting materials, displays and maps are available below:
Public Input Meeting presentation
Current Action Plan
All Regional Action Plan materials are available for download below. The final Preble County Action Plan is also available. 
The plan provides the Miami Valley Region with
An inventory of transportation options available to the transportation disadvantaged residents of the study area, including: low-income, elderly and disabled persons in the study area.  That information was used to create a Regional website, www.miamivalleyridefinder.org, that is a resource to residents, families and advocates looking for transportation in our Region. 
Identification of current and projected gaps and overlaps in transportation services to the transportation disadvantaged residents of the study area, including: low-income, elderly and disabled persons.
Recommendations on how to fill the gaps, eliminate the overlaps in transportation service and transportation support functions and provide additional, cost-effective service to target populations.
Older persons have different mobility needs if they can't drive themselves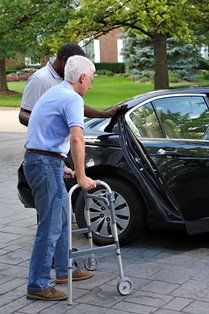 Final Regional Coordination Plan Materials
In 2012, MVRPC also led the effort to update the plan.  That update is also available. The HSTC Plan and the Update were developed to guide the use of grant funds under three Federal Transit Administration programs; the Job Access and Reverse Commute program (JARC) the New Freedom Program and the Specialized Transportation Program for the Elderly and People with Disabilities.  Under MAP 21, the JARC and New Freedom programs were merged into other FTA efforts and are no longer stand alone programs.  The Specialized Transportation Program is now known as Enhanced Mobility for Seniors and Individuals with Disabilities, and projects funded under that program must be derived from the Coordinated Plan.
All applicants for funds for the Section 5310 program must become familiar with the original Plan and with the Update and be able to cite specific pages that support their project application. The Update identifies six priority areas for 2012 and beyond.   These priorities (below) will be the focus of coordination efforts in the Region. 
Regional Priority Issues
While there are many gaps in transportation services that need to be addressed and improvements that can be made, six areas have emerged that deserve specific attention over the next four -year-period and beyond:
the increasing demand for dialysis-related transportation and transportation for other repetitive medical treatments such as chemotherapy and physical rehabilitation;
the aging of the Region's population and the growing transportation needs of seniors who limit or stop driving, or those who should do so;
the need for people with disabilities, the elderly and people of low income to be able to access employment, medical, educational and shopping destinations in an efficient manner, including trips that cross jurisdictional boundaries;
 the need to complete essential sidewalks, curb cuts and other elements of the pedestrian infrastructure, especially along fixed and flex-route transit lines in order to make transit more accessible and appealing to the target populations;
the growing number of low-income residents who need transportation to jobs, medical appointments and other activities, and the fact that more of these low income individuals are living in suburban and rural settings with limited transportation options;
and an overarching emphasis on coordination among agencies, funders and users, to ensure cost-effective use of the Region's transportation assets.  Coordination should be emphasized to combine clients of various agencies on single vehicles, and to coordinate operations such as dispatching, maintenance, and driver training.  (see Appendix D)  Coordination will be encouraged and rewarded in all funding governed by this plan.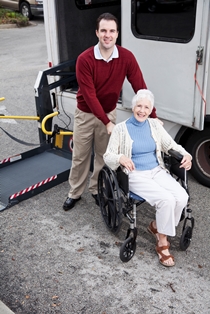 Mobility needs of disabled persons are varied.