HSTC Coordination Plan
Helping Transportation Disadvantaged Residents of the Miami Valley
In 2008, the Miami Valley Regional Planning Commission (MVRPC), in collaboration with the Greater Dayton Regional Transit Authority, Greene County Transit Board and Miami County Transit developed a Coordinated Public Transit – Human Services Transportation Plan.
MVRPC led the effort to develop a Regional Action Plan for improving transportation for people with disabilities, the elderly and people of low income. The plan is designed to both enhance transportation for these populations and to better coordinate the efforts of public and private transportation providers in Greene, Miami, Montgomery and northern Warren Counties. For more information please contact Serena Anderson, Transportation Coordination Planner at sanderson@mvrpc.org or 937.531.6524.
Miami Valley Coordinated Public Transit-Human Services Transportation Plan 2019 Update

The 2019 HSTC Plan Update has been developed using grassroots community input, focus groups and stakeholder interviews, surveys of transit users, and thorough data analysis. It will guide the allocation of FTA Section 5310 grant funds, and guide existing transportation providers to enhance available services through new partnerships and emerging technologies in Greene, Miami, Montgomery and northern Warren Counties.
The plan for the future involves building on and increasing coordination work among providers, expanding services, expanding resources for drivers, and improving public awareness of transportation options and impact. As the age and makeup of our Regions' population changes, MVRPC and the Human Services Transportation Coordination (HSTC) Council will work to meet ongoing and new needs.
Current Action Plan
All Regional Action Plan materials are available for download below. The final Preble County Action Plan is also available. 
The plan provides the Miami Valley Region with:
An inventory of transportation options available to the transportation disadvantaged residents of the study area, including: low-income, elderly and disabled persons in the study area.  That information was used to create a Regional website, www.miamivalleyridefinder.org, that is a resource to residents, families and advocates looking for transportation in our Region. 
Identification of current and projected gaps and overlaps in transportation services to the transportation disadvantaged residents of the study area, including: low-income, elderly and disabled persons.
Recommendations on how to fill the gaps, eliminate the overlaps in transportation service and transportation support functions and provide additional, cost-effective service to target populations.
Older persons have different mobility needs if they can't drive themselves.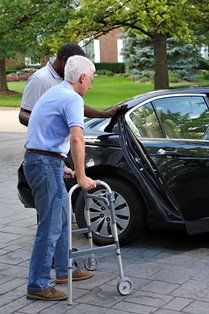 n 2012, MVRPC also led the effort to update the plan.  That update is also available. The HSTC Plan and the Update were developed to guide the use of grant funds under three Federal Transit Administration programs; the Job Access and Reverse Commute program (JARC) the New Freedom Program and the Specialized Transportation Program for the Elderly and People with Disabilities.  Under MAP 21, the JARC and New Freedom programs were merged into other FTA efforts and are no longer stand alone programs.  The Specialized Transportation Program is now known as Enhanced Mobility for Seniors and Individuals with Disabilities, and projects funded under that program must be derived from the Coordinated Plan.
All applicants for funds for the Section 5310 program must become familiar with the original Plan and with the Update and be able to cite specific pages that support their project application. The Update identifies six priority areas for 2012 and beyond.   These priorities (below) will be the focus of coordination efforts in the Region. 
Regional Priority Issues
The 2019 Update of the plan identified four Regional Human Services Transportation Priorities.  While there are many gaps in transportation services that need to be addressed and improvements that can be made, four areas have emerged that deserve specific attention:
Increase the level of coordination among transportation providers to improve access to medical care, employment and food for residents of the Miami Valley Region.
Provide more transportation service to the Miami Valley region through new services or expansion to existing services.
Recruit and train more paid and volunteer drivers.
Improve public awareness of transportation services in the Miami Valley region, including expansion of materials and programs to orient individuals to using transportation services.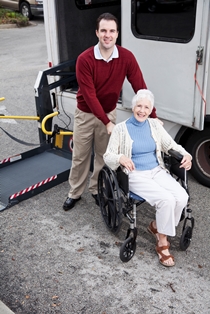 Mobility needs of disabled persons are varied.