Services for Non-Drivers
Services for Non-Drivers include transportation options for three groups of people who are sometimes referred to as "transportation disadvantaged." These groups are: seniors, people with disabilities who do not drive, and low income people without a reliable transportation. These services are also sometimes referred to as Human Services Transportation, because clients of various human services agencies often rely on some form of specialized transportation.  In April of 2008, MVRPC's Board adopted The Public Transit-Human Services Transportation Plan for Greene, Miami, Montgomery and Northern Warren County. The final Regional Action Plan is available for review and download.
Miami Valley Ride Finder

Miami Valley Ride Finder is designed to provide contact information as well as general information about public and non-profit transportation providers in and around the Miami Valley.
Human Services Transportation Coordination Council
The Human Services Transportation Council was formed to improve transportation options for seniors, people with disabilities and low-income individuals, in part by implementing the recommendations of the Regional Public Transit – Human Services Transportation Coordination Plan and the Update of that Plan.
The Council meets quarterly to provide input on making specialized transportation improvements and to share information concerning transportation for non-drivers. The committee is open to public, private and non-profit transportation providers, as well seniors and individuals with disabilities and advocates for those groups   This Council discusses the transportation needs of the populations identified above and makes recommendations on how to meet those needs in a coordinated fashion. 
One of the benefits of being a Council member is that members are  made aware of transportation funding opportunities, including the recently revamped Section 5310 program, known now as Enhanced Mobility for Seniors and Individuals with Disabilities. Active participation in the Regional Transportation Coordination Council, including attendance at the quarterly meetings, is mandatory in order for an entity to request and potentially receive Section 5310 funding in Greene, Miami, Montgomery and northern Warren Counties or to be eligible to provide services contracted through the 5310 program.  
Other benefits of being a Council member include networking with a variety of agencies involved in specialized transportation, having ongoing input into the coordination planning process, identifying potential coordination or contracting opportunities, receiving updates on innovative transportation efforts and being made aware of resources and training opportunities.. Meetings are typically held the fourth Tuesday in February, May, August and November.  Exact time and location may vary and will be announced to Council members several weeks prior to the meeting.  Meeting details will also appear on MVRPC's website.
For more information about membership in the Human Services Transportation Coordination Council, or if you have questions about the revamped Section 5310 program,  please contact Stacy Schweikhart,  at sschweikhart@mvrpc.org or by calling 937.2236323.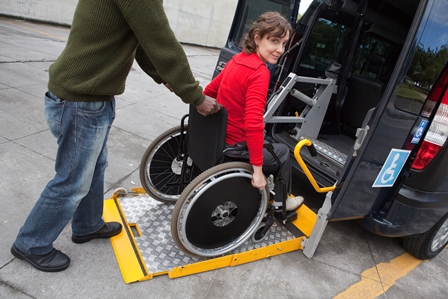 Human Services Transportation Coordination Overview
The Greater Dayton Region is very automobile-dependent. The vast majority of trips for work, recreation, education or essential errands are made in a privately-owned car. If you are able to drive and you own a dependable car, our Region is pretty easy to navigate. The traffic isn't too bad, and for most people, the commutes are reasonable. But if you are a non-driving senior or a person with a disability who doesn't drive, getting around can be a challenge. The same is true for a person without a reliable car who needs to find a job or needs to get back and forth to that job. As a matter of fact, reliable transportation is the second biggest barrier (behind childcare) for many people entering the workforce.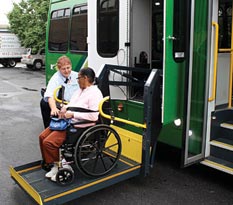 There are options for non-drivers. If an individual lives near a bus line, and can use standard bus service, there are many destinations that are accessible. Many organizations also provide specialized transportation, usually in the form of small vans, for people with special transportation needs. The problem is that providing transportation in a Region that continues to "spread out" is complicated and expensive. Many suburban neighborhoods and destinations are not accessible by fixed route bus and are isolated from shopping, doctors and other essential services. As more seniors "age in place" in car-dependent neighborhoods, the transportation challenge will grow.
To make better use of the limited transportation funds available to non-profits and governments, and to make more transportation available to those who need it, our Region conducted a Human Services Transportation Coordination planning process.  The original 2008 Regional Action Plan identified existing services, gaps in service and recommended strategies for improvement.   
The 2012 Update of the plan (amended December 2016) identified six Regional Human Services Transportation Priorities.  While there are many gaps in transportation services that need to be addressed and improvements that can be made, six areas have emerged that deserve specific attention:
The increasing demand for dialysis-related transportation and transportation for other repetitive medical treatments such as chemotherapy and physical rehabilitation.
The aging of the Region's population and the growing transportation needs of seniors who limit or stop driving, or those who should do so.
The need for people with disabilities, the elderly and people of low income to be able to access employment, medical, educational and shopping destinations in an efficient manner, including trips that cross jurisdictional boundaries.
The need to complete essential sidewalks, curb cuts and other elements of the pedestrian infrastructure, especially along fixed and flex-route transit lines in order to make transit more accessible and appealing to the target populations.
The growing number of low-income residents who need transportation to jobs, medical appointments and other activities, and the fact that more of these low income individuals are living in suburban and rural settings with limited transportation options.
An overarching emphasis on coordination among agencies, funders and users, to ensure cost-effective use of the Region's transportation assets.  Coordination should be emphasized to combine clients of various agencies on single vehicles, and to coordinate operations such as dispatching, maintenance, and driver training.  (see Appendix D)  Coordination will be encouraged and rewarded in all funding governed by this plan.
Transportation Options for Seniors, People with Disabilities, and Low Income Individuals
The Miami Valley has a variety of public and non-profit transportation resources available to non-drivers.  Please visit www.miamivalleyridefinder.org to learn what resources are available in your community.  This website was designed through a New Freedom grant from the Federal Transit Administration and updated as needed by MVRPC staff.