Vanpooling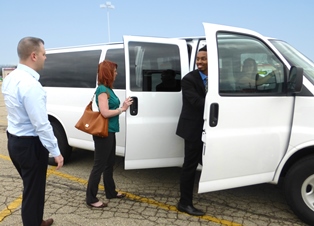 During this pandemic, social distancing is important and carpooling and vanpooling together may not be practical. We encourage you to look into this option and set up a carpool or vanpool situation when it is safe to do so. Now is a great time to plan for your future commute needs. Questions: Please call 937.223.SAVE or email rideshare@mvrpc.org.
If you have a long commute (over 25 miles one-way), you and a group of up to 14 people may be interested in renting a van on a monthly basis. If you are interested in vanpooling, call 937.223.SAVE or 1.800.743.SAVE or email rideshare@mvrpc.org to speak with a RIDESHARE representative about this option. 
Register for the RIDESHARE Program
Frequently Asked Questions about Vanpooling
What is vanpooling?
Vanpooling happens when a group of four or more riders, who want to ride together to work in a well-equipped, newer model van, rent a van on a monthly basis from a recognized vanpool provider. Commute with Enterprise is the recognized vanpool provider in the greater Miami Valley Region.
How do I start a new vanpool?
If your group has four or more co-workers that are ready to start vanpooling, please call 800.VAN.4.WORK to speak with an Commute with Enterprise customer service representative.
How do I join a vanpool?
Commute with Enterprise offers a free ride-matching program that helps identify other vanpools with similar hours and similar commute routes. We can also work with local Rideshare Programs to help match you with others.
What kinds of vehicles are offered on a monthly basis?
Commute with Enterprise is the recognized vanpool provider in this area.
Their vehicle lineup includes:
• Small and Large Bench Vans (8, 12, or 15 passenger van)
• Small and Large Luxury Conversion Vans (7-14 individual passenger seats)
• Minivans (Dodge Grand Caravan, Chrysler Pacifica, or similar)
• Luxury Crossovers (Buick Enclave or similar)
• Crossovers (Ford Flex or similar) and SUVs (Ford Explorer or similar)
How much does it cost?
Pricing varies based on the size of the van, the round-trip distance the vanpool will travel to / from work, the type of optional equipment in the van, number of riders, subsidy amount, fuel amount, etc. Compared to long distance drive alone costs, vanpooling will save on average 50-70%.
What does the price include?
Commute with Enterprise is all-inclusive. Full-service maintenance, 24-hour emergency roadside assistance and insurance coverage are included in the rate. The only additional expenses will be fuel, parking, and toll road fees, where applicable.
Do I have to lease or buy the vehicle?
No, all vanpool vans are rented on a month-to-month basis for complete flexibility as ridership fluctuates. Commute with Enterprise only requires a 30-day written notice to terminate a vanpool.
How is maintenance handled?
Commute with Enterprise covers both minor and major repairs, as well as all scheduled servicing. Commute with Enterprise coordinates with a local vendor for van servicing. If the van needs to be kept in the repair shop overnight, Commute with Enterprise will provide a loaner vehicle in most instances. This includes no "out of pocket" expenses since the shop bills Commute with Enterprise directly.
What happens if the van breaks down on the road?
The 24/7 breakdown assistance program guarantees your vanpool group will be never be stranded in the event of a breakdown.
What happens if the van gets into an accident?
Subject to the terms of the agreement, insurance coverage includes Auto Liability and Uninsured Motorists. Physical damages to the vehicle are provided for in the agreement. If an accident occurs, our breakdown assistance program will assist you.
What happens if I need to get home in an emergency and I rode to work in the vanpool?
If you register for the Miami Valley Regional Planning Commission's RIDESHARE Program, you are automatically eligible for the free Guaranteed Ride Home (GRH) Program. This program provides ridesharers with a guaranteed ride in case of an emergency. GRH reimburses participants 80% of a taxicab ride up to 4 times in a 12 month period. Just fill out the reimbursement form and attach the receipt.
You can use GRH if:
• You or a member of your family becomes ill or there's an emergency;
• You unexpectedly must work past your normal quitting time;
• Your regular vanpool driver has to leave early.
Go to MiamiValleyRideshare.org to register for the free RIDESHARE Program and be automatically eligible for GRH immediately.
What about fuel?
Most vanpool groups use the Commute with Enterprise fuel program through Wright Express (WEX) which is accepted at most major fuel stations.
How is the monthly fare collected?
Individuals are able to make payments on the Commute with Enterprise website (which accepts personal cards and Federal Transportation Benefit Cards).
Where do we board the van?
Each day the vanpool group gathers at a predetermined meeting point central to all the riders' homes (example: grocery store or church parking lot) where personal cars can be left for the day.
Where does the van get parked at night?
Either the van is left at the established meeting point if overnight parking is allowed, or an approved driver may park it at home.
Who drives?
Most vans designate two to four drivers to share driving duties. All drivers must submit an application and are subject to approval prior to driving. All drivers must be 25 years or older and meet minimum driver requirements. As part of the Commute with Enterprise driver application process, each driver's MVR (Motor Vehicle Record) is reviewed annually to ensure that it is in compliance with our policies. Only approved drivers may operate the vehicles. There is no cost for additional drivers.
Are there any discounts available?
Yes, vanpools traveling TO a worksite located in Montgomery, Greene, Miami, Darke, Preble or Clinton Counties can take advantage of the Miami Valley Regional Planning Commission's Vanpool Seat Subsidy Program. The Miami Valley Regional Planning Commission's RIDESHARE Program will provide $500 per month, through January 2021, to help pay for the cost of the van. This offer is on a first-come, first-served basis. The $500 is paid directly to the vanpool provider (Commute with Enterprise) and the amount is subtracted from the vanpool's monthly invoice. Contact MVRPC at 800.743.SAVE for details.
Vanpool FAQ PDF available for download