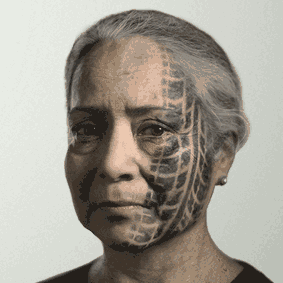 Dayton, OH – In response to the alarming increase in pedestrian related crashes this year, the Miami Valley Regional Planning Commission (MVRPC) launched a pedestrian safety campaign entitled Street Smart.  The campaign includes billboards and print ads that will be featured on the sides of various Greater Dayton Regional Transit Authority (GDRTA) buses.
"The Street Smart campaign was developed to be a powerful reminder that crashes involving pedestrians never end well," stated MVRPC's Executive Director, Brian O. Martin, AICP. "The images represent people in your life like your neighbor, family member or friend. We want to remind everyone to watch out for pedestrians and pedestrians need to walk defensively." The billboard ads are located along arterial roadways throughout the Miami Valley that have higher vehicle, transit, and pedestrian traffic. The transit vehicles with print ads will be on numerous GDRTA bus routes.
The MVRPC website (http://www.mvrpc.org/street-smart) includes the following reminders:
If there is a sidewalk, use it. If you must walk in the street, walk on the left FACING TRAFFIC.
Wear light-colored or reflective clothing at night, or at dawn or dusk.
If you regularly walk or jog at night, consider wearing lights. Or just carry a flashlight.
If there is a crosswalk, use it.
Even if it is your turn to cross at a light, make eye contact with any approaching vehicles.
Watch out for turning vehicles at intersections. 
Look out for drivers that seem distracted or who are driving strangely. Move farther away from the road if you are concerned.
Don't walk distracted; look up from your phone when crossing a street, or better still, put it away entirely when walking along a busy road.
Remember, driving under the influence can be fatal. So can walking under the influence.
This campaign is adapted from Street Smart campaign funded by District of Columbia, District Department of Transportation, Maryland Motor Vehicle Administration, Metropolitan Washington Council of Governments, Virginia Highway Safety Office and Washington Metropolitan Area Transit Authority.
Established in 1964, the Miami Valley Regional Planning Commission promotes collaboration among communities, stakeholders, and residents to advance regional priorities. MVRPC is a forum and resource where the Board of Directors identifies priorities and develops public policy and collaborative strategies to improve quality of life throughout the Miami Valley Region. MVRPC performs various regional planning activities, including air quality, water quality, transportation, land use, research and GIS. As the designated Metropolitan Planning Organization (MPO), MVRPC is responsible for transportation planning in Greene, Miami and Montgomery Counties and parts of northern Warren County. MVRPC's areawide water quality planning designation encompasses five (5) counties: Darke, Preble plus the three MPO counties.
For additional information, contact Bob Steinbach, MVRPC's Director of Sustainable Solutions and Transportation Alternatives at (937) 223-6323 or bsteinbach@mvrpc.org