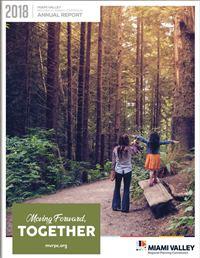 Dayton, OH – The Miami Valley Regional Planning Commission (MVRPC) is pleased to announce the release of the 2018 Annual Report entitled "Moving Forward, Together."  It is available to view at www.mvrpc.org. 
"The report's theme – "Moving Forward, Together" – summarizes MVRPC's efforts and collaboration with Board members, community partners, federal and state organizations, and local businesses to address the needs of Region," explained MVRPC's Executive Director, Brian O. Martin, AICP.   
The report includes an introductory letter from MVRPC's Chairperson, City of Centerville Council Member John J. Beals and Martin highlighting the agencies 2018 accomplishments. In addition, four local transportation projects in Village of Yellow Springs, City of Piqua, City of Brookville, and the City of Springboro, are showcased along with photographs from throughout the Miami Valley Region.
Established in 1964, the Miami Valley Regional Planning Commission promotes collaboration among communities, stakeholders, and residents to advance regional priorities.  MVRPC is a forum and resource where the Board of Directors identifies priorities and develops public policy and collaborative strategies to improve quality of life throughout the Miami Valley Region.  MVRPC performs various regional planning activities, including air quality, water quality, transportation, land use, research and GIS.  As the designated Metropolitan Planning Organization (MPO), MVRPC is responsible for transportation planning in Greene, Miami and Montgomery Counties and parts of northern Warren County. MVRPC's areawide water quality planning designation encompasses five (5) counties: Darke, Preble plus the three MPO counties.
For more information about MVRPC's 2018 Annual Report, or to request a printed copy, please contact Laura Henry, MVRPC's Interim Director of Marketing and Public Affairs, at 937.223.6323.
###
Online flipbook format of 2018 Annual Report available here.