INTRODUCTION TO ARCGIS DESKTOP
Date/Time: May 23, 2018, 8:30-noon
Where: Wright State University GIS Lab, 295 Millet Hall, 3640 Colonel Glenn Highway, Dayton, OH 45435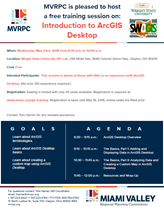 This training session focuses on hands-on learning with ArcGIS Desktop. Check out the event flyer.
This session is aimed at those with little to no experience with ArcGIS Desktop. No prior GIS experience is required.
Fee: Free
Goals:  
Learn about ArcGIS terminologies
Learn about ArcGIS Desktop basics
Learn about creating a custom map using ArcGIS Desktop
Session Details:
8:30 – 9:00 am:

ArcGIS Desktop Overview

9:00 – 10:15 am:   

The Basics, part 1: Adding and displaying data in ArcGIS Desktop

10:30 – 11:45 am:    

The Basics, part 2: Analyzing data and creating a custom map in ArcGIS Desktop

 

11:45 – 12:00 pm:   

Resources and Wrap Up

 
Seating is limited with only 20 seats available.
Prior Registration is required. Registration will close as of May 18, 2018, or until the session is filled.