ARCGIS ONLINE BASICS
Date/Time: November 14, 2018, 8:30-noon
Where:
MVRPC Lake Conference Room, 10 N. Ludlow St., Suite 700, Dayton, OH 45402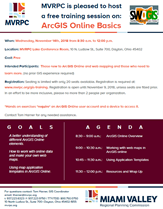 This training session focuses on hands-on learning and requires an ArcGIS Online account and a device to access it. Check out the event flyer.
Intended participants are those new to ArcGIS Online and web mapping and those that need to learn more. No prior GIS experience is required.
Fee: Free
Goals:  
Learn about ArcGIS Online concepts and fundamentals
Learn how to work with online data and make your own web maps
Learn how to use mapping application templates within ArcGIS Online
Session Details:
| Time | Content |
| --- | --- |
| 8:30 – 9:00 am: | ArcGIS Online Overview |
| 9:00 – 10:30 am:    | Working with online data and web maps in ArcGIS Online |
| 10:45 – 11:30 am:     | Using application templates |
| 11:30 – 12:00 pm:    | Resources and Wrap Up |
Seating is limited with only 20 seats available. In an effort to be more inclusive, please no more than 2 people per organization.
Prior Registration is required. Registration will close as of November 9, 2018, or until the session is filled.